FOR IMMEDIATE RELEASE:
October 8, 2010
CONTACT:
Melanie Mowry Etters
Communications Director
(850) 488-4257
Renaissance Woman
By Melanie Mowry Etters
LAKELAND, FL - Brittnie Harvey, 25, is a renaissance woman accomplishing many things in her young life. Born with Down syndrome, Harvey has written a book called Down Syndrome: Living a Fulfilling Life. At a disability conference in Orlando this year, Harvey rented a booth and sold copies of her book to inspire others living with the syndrome. She says she has sold lots of books. She personally inscribed a note to each purchaser at the conference.
Harvey receives services from Florida's Agency for Persons with Disabilities (APD). October is National Disability Employment Awareness Month. APD is highlighting the contributions of people with disabilities to the work force.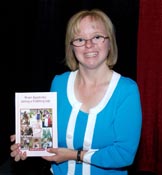 Harvey says she was encouraged to write her book by a young man who was in one of her transition classes at Florida Southern College. The young man is now her fiancé.
Harvey works as a front service clerk for Publix and has held her job for nine years. Employment has given her confidence to achieve many things. "I love to bag groceries for my customers and take them out to their cars. I talk with them and make them feel comfortable. All the customers love me and like to talk with me, too. I give them a big smile and they love that," says Harvey.
Store Manager Steve Bryant says, "Brittnie does a good job. She is friendly with the customers. She stays busy and takes her job seriously. She is part of the team."
Harvey has at least two volunteer jobs. One is with Volunteers in Service to the Elderly (VISTE) where she does data entry so she can learn office skills. This year, VISTE presented Harvey with the Elfried Pennekamp Memorial Award for Extraordinary Service. She is also a volunteer at Crystal Lake Elementary School where she answers phones in the front office.
As a young child, Harvey began learning American Sign Language which was used to teach other children in her class, so she could communicate with those unable to speak. She uses those ASL skills today to sign songs to elderly people in nursing homes once a month. Harvey is continuing to take private tutoring lessons in American Sign Language to improve her skills.
The agency annually serves about 35,000 Floridians with developmental disabilities of mental retardation, autism, cerebral palsy, spina bifida, and Prader-Willi syndrome. For more information on the agency, call 1-866-APD-CAREs or visit http://apdcares.org.