Helping to Make Shopping a Pleasure
By Kimberly Tharpe
Craig Wallace works as a Front Service Clerk for Wedgewood Commons Publix in Stuart. Wallace is responsible for bagging groceries and cleaning and corralling carts, but his favorite duty is customer service. Wallace loves helping his customers by answering their questions, locating an item, or just a friendly greeting as they enter the store. Wallace's outgoing personality makes his job fun for him and a pleasant experience for the customers. He is proud of his sixth anniversary of employment with Publix and speaks with great enthusiasm when he talks about his work environment, co-workers, and supervisor, saying, "My wonderful boss, Carmeyla, is always there for me if I have a question or need help. My co-workers treat me like I'm part of the team because I am."
Wallace has a disability and receives services from the Agency for Persons with Disabilities (APD). Job coach Debra Athos says, "Wallace has done a great job of adapting to wearing a face mask, social distancing, and following new sanitation procedures. Craig keeps a positive attitude with his co-workers and customers." Everyone thinks highly of him and he does an excellent job.
Wallace currently lives with his parents in Stuart and they support his employment by providing transportation to and from his work. His mom, Jamie Stott, is very proud of her son. Craig is one of six children. Stott says, "Craig is just awesome. He is always offering to help in any way he can. He does laundry, vacuums, and takes out the trash at home. He loves spending time with his siblings and their kids."
Customers recognize Wallace when they are out and about and often comment on how they are impressed with him and his attitude. One customer even stopped them to introduce her young sons to him and told him she hoped her boys would turn out like him.
In his spare time, Wallace enjoys movies, dining out (pre-COVID), going to camp, and sports. He has big goals for his future. Wallace plans to move to Virginia Beach with his parents next year to be closer to relatives. He eventually hopes to move into an independent living setting by way of a specialized housing program in the area. Wallace wants to find a Publix Supermarket close by when he moves so he can continue to work for Publix, a company he loves.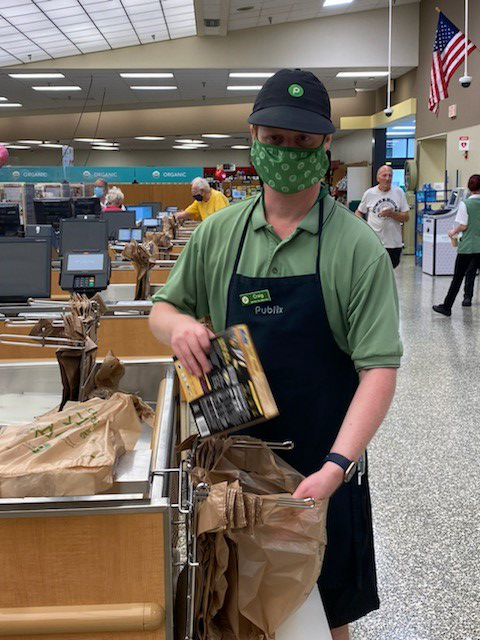 Craig Wallace has worked at Publix in Stuart for six years.
Tweet