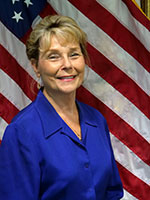 Happy New Year!
By Director Barbara Palmer
Welcome, 2021!
I do not know anyone who is sad to see 2020 end. The year of the pandemic. The year of crazy local, state, and presidential elections. This has certainly been a challenging year for EVERYONE. I am so happy to say goodbye to 2020. Hallelujah!
My hope for 2021 is that we can all be safe from COVID-19 with the distribution of several potent vaccines and an effective way of ensuring everyone has access to them. We want our customers, their families, Waiver Support Coordinators, providers, and stakeholders, all to receive the shot to protect themselves from this terrible virus if it is safe for them to do so. Once that occurs, we hope that our world can begin to return to normal.
APD is continuing to prepare for the 2021 legislative session by presenting and participating in committee weeks as they are scheduled. We will share with you in The Champion newsletter the latest happenings related to our agency during the legislative session.
I want to wish each of you a very Happy New Year and a prosperous 2021!
Tweet