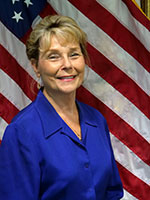 Hurricane Season is Here
By Director Barbara Palmer
Today marks the beginning of hurricane season, so it is time to go over your family's emergency plan. Make sure you know your evacuation routes, destinations, and local emergency management contacts, and update your disaster supply kit. Remember that hurricane season lasts through November 30.
The 2021 Disaster Preparedness Sales Tax Holiday began on May 28 and extends through June 6. For more information, visit the Department of Revenue's Disaster Preparedness Sales Tax Holiday webpage.
Thorough planning is critical to protecting the health and safety of yourself and your loved ones. You need to plan now where you and your family will go if a disaster strikes and you need to leave your home. Knowing when it is safe to stay home and when you should evacuate is very important. It may be safer to stay at home if you are not in an ordered evacuation zone, low-lying flood prone area, mobile home, or unsafe structure. Learn what evacuation zone you live in and if your home is structurally safe to withstand projected winds.
Your plans to evacuate may include a hotel in another city or a relative's home out of harm's way. Thinking through multiple options is very important, and your decision should depend on the size and direction of the storm and what your local officials are telling you. Due to COVID-19, it is unclear whether hurricane shelters will be an option for everyone. In addition, it is important to create a plan for your pets, since not all places accept animals.
These are some important precautionary measures you can take to keep yourself and your family safe:
Know how you will receive emergency alerts and warnings.
Keep your vehicle fuel tanks filled up with gas.
Know your evacuation route(s).
Keep enough fuel handy to run your generator (if you have one) and test your generator often to make sure it is in working order.
Have a communication plan – write down phone numbers and email addresses for everyone in your household. Identify someone outside of your community or state who can act as a central point of contact to help your household reconnect. In a disaster, it may be easier to make a long-distance phone call, as often local phone lines can be jammed. Also, a text message may get through when a phone call will not. Make copies of this plan for each family member to carry in their wallet, backpack, or purse.
Write down phone numbers for emergency services, utilities, service providers, medical providers, veterinarians, insurance companies, and other services.
For some helpful planning guides, check out the following resources:
Your disaster supply kit should contain the following items:
Water – at least one gallon daily per person for three to seven days
Food – at least enough for three to seven days

non-perishable packaged or canned food/juices
food for infants, the elderly, or other family members with special dietary needs
snack foods
non-electric can opener
cooking tools/fuel
paper plates/plastic utensils

Blankets, pillows, sleeping bags, etc.
Clothing – seasonal/rain gear/sturdy shoes
First aid kit, medicines, prescription drugs, and prescription information
Personal Protective Equipment (PPE) such as masks and gloves
Special items – for babies and the elderly
Toiletries – hygiene items
Moisture wipes and hand sanitizer
Flashlight/batteries
Radio – battery-operated and NOAA weather radio
Cash – banks and ATMs may not be open or available for extended periods
Keys
Toys, books, and games
Important documents – in a waterproof container or Ziploc bag

insurance, medical records, bank account numbers, Social Security card, etc.
document all valuables with video, if possible

Tools – keep a set with you during the storm
Pet care items

proper identification/immunization records
ample supply of food and water
a carrier or cage
medications
muzzle and leash
Always stay up to date on current conditions to be notified of any hurricanes, tropical storms, or other potential disaster. A NOAA Weather Radio provides information on weather conditions. Additionally, Florida 511 and Florida Highway Patrol provide information on traffic conditions. Your county Emergency Management Agency's website and contact information can be found at floridadisaster.org/counties. APD posts up-to-date disaster information and its Recovery Toolkit online at apdcares.org/news/toolkit.htm.
Tailor your plans and supplies to your daily living needs. We care about you and your safety!
Tweet