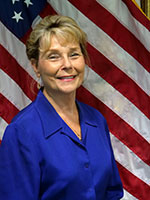 Director's Column
By Director Barbara Palmer
The Florida Legislature approved its proposed $101 billion budget for state fiscal year 2021-2022 on April 30. Included in this record budget is substantial funding to serve the customers of the Agency for Persons with Disabilities (APD).
We are absolutely thrilled with the financial commitment made by the Florida Legislature to serve our customers. We will now be able to serve customers in crisis and enroll new individuals from the waiting list with the $95 million allocated for that purpose. We anticipate being able to enroll approximately 1,900 customers with critical needs who are on the APD waiver waiting list. Thank you to Florida's Senators and Representatives for demonstrating their commitment to some of our state's most vulnerable citizens. This is fabulous news!
I also want to thank Governor DeSantis for his support of our agency and his strong leadership during this pandemic. His positive direction in keeping Florida's economy open has allowed the Legislature to provide the funding to meet the needs of our customers. We look forward to his continued support of our customers.
The key APD investments in the budget include:
$95,666,846 to offer enrollment in the Home and Community-Based Services Medicaid waiver to individuals in crisis and those with critical needs on the APD waiver waiting list.


$1,372,118 to continue implementation of the APD iConnect system for the purpose of providing electronic visit verification (EVV) of provider service delivery to APD customers and electronic processing of claims for Developmental Disabilities Medicaid waiver services.


$320,000 to complete the replication and validation study of the Individual Comprehensive Assessment (ICA). APD is currently developing a methodology using the Individual Comprehensive Assessment tool to determine an individual's service and budget needs.


$20,051,900 for necessary repairs and maintenance for the Sunland Center in Marianna. This funding will ensure the health and safety of residents and staff.


$1,089,228 for life-safety code corrections that will address the necessary repairs and maintenance for the APD-managed facilities.


$475,000 for the planning and remediation tasks to integrate APD applications with the new Florida Planning, Accounting, and Ledger Management (PALM) system.


$1 million for employment and internships for individuals on the APD waiting list.


$2 million for renovations and repairs to Billy Joe Rish Park in Gulf County that was impacted by Hurricane Michael.


Tweet