Breadwinner at Panera Bread Company
By Kimberly Tharpe
Christina Angelis attained a high school degree and built a strong work history while living in New York. When her family moved to Palm Harbor several years ago, Angelis wanted to continue working. Angelis has a developmental disability, so she and her mother sought out supported employment services through the ARC Tampa Bay and APD's Employment Enhancements Project (EEP).
Angelis found employment with Bealls Department Store in Oldsmar. Her duties there included processing clothing, floor maintenance, and assisting customers. Angelis was temporarily laid off due to the COVID-19 pandemic, and when she finally returned to work her hours were greatly reduced.
Desiring more, Angelis began to develop other job opportunities with the assistance of her Employment Specialist. After applying and interviewing for many positions, Angelis was offered a crew member position in February at Bay Linen Inc. in Clearwater. Angelis' duties included processing towels and folding hospital gowns for the multimillion-dollar company.
Unfortunately, through no fault of her own, Angelis was laid off once again. Not to be discouraged, Angelis began the job search and interviewing process again. Turning to help from her Employment Coordinator, Margaret Cote of the Arc Tampa Bay, they found a great job for Angelis at Panera Bread Company in Clearwater. "Christina is a hard worker and enjoys her duties. And she loves earning a paycheck." said Cote.
Angelis said, "I like working at Panera and my co-workers are nice to me and make me feel like part of the team. I like my boss, and I like staying busy." At Panera, Angelis keeps the lobby and dining room clean. She cleans tables and chairs, maintains the coffee/soda dispenser area, takes out trash, and cleans the floors in the lobby and dining room. Angelis likes to work, and earning a paycheck is very important to her. She enjoys the responsibility that comes with having somewhere to be every day. She has worked at Panera for four months now. Angelis' supervisor says, "We like having Christina on our team because she is friendly, reliable, and consistent. She has a positive attitude and provides good customer service to all. She works well with all of her coworkers and supervisors. Christina is friendly and has a positive attitude. She is a team player and tries to help her coworkers whenever she can."
Although Angelis works 11 a.m. – 2 p.m. Monday through Friday, she still finds time for her favorite hobbies. She loves to watch movies, color, and enjoys painting with Diamond Art kits. Angelis looks forward to traveling to visit family soon.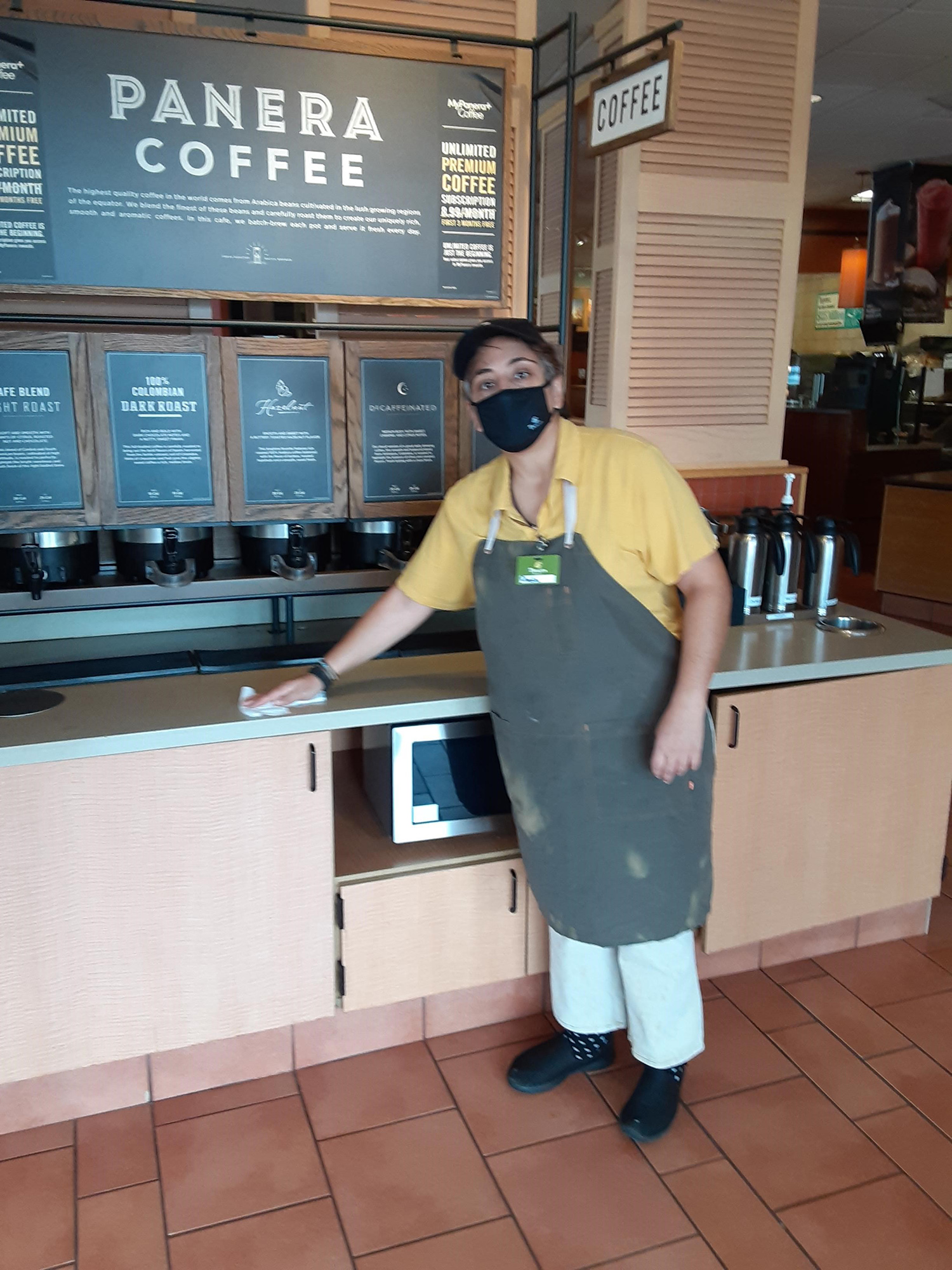 Christina Angelis likes to work, and earning a paycheck is very important to her.
Tweet