Governor DeSantis Proclaims October as Disability Employment Awareness Month
Thank you to Governor Ron DeSantis for officially recognizing October 2020 as Disability Employment Awareness Month. Access the signed proclamation here.
Within the proclamation, the Governor highlighted achievements and statistics about our state's agencies and hardworking citizens.
Florida's Department of Economic Opportunity, CareerSource Florida, and 24 local workforce development boards throughout the state help people with disabilities locate jobs by offering services, including job placement assistance, training, support services, and job coaching.
During fiscal year 2019-2020, the Agency for Persons with Disabilities assisted 2,410 Floridians with unique abilities, Vocational Rehabilitation assisted 5,389 people, and Blind Services helped 822 individuals achieve successful employment outcomes, and another 11,576 individuals to become more successful in school, community and work.
Florida joins the rest of the nation in recognizing the contributions of the 2.8 million Floridians with unique abilities by celebrating October 2020 as Disability Employment Awareness Month.
To learn about APD's employment initiatives, click here.
For information in English, Spanish, and Creole about supported employment and what to expect from an APD job coach, visit our Brochures page.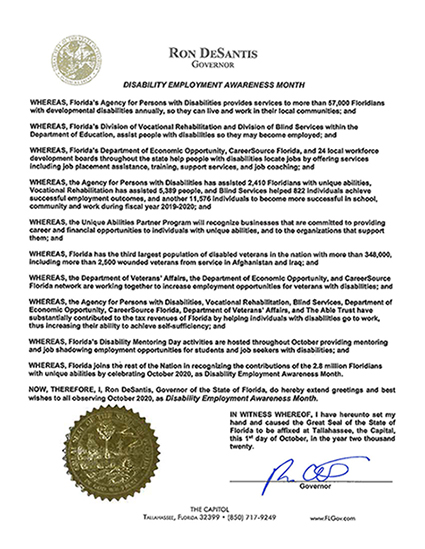 Proclamation declaring October as Disability Employment Awareness Month
Tweet