FOR IMMEDIATE RELEASE
October 1, 2013

CONTACT: Melanie Mowry Etters
Communication Director
850-488-4257
Good Greetings
By Melanie Mowry Etters
LAKE WALES —Justin Kelley has been working at Wal-Mart in Lake Wales for two years.  He is currently a door greeter and has worked in the gardening department and main office in the past. Kelley is knowledgeable about performing tasks needed by the customer service managers in the office. Kelley is well liked by his colleagues, as well as the customers in the Lake Wales community.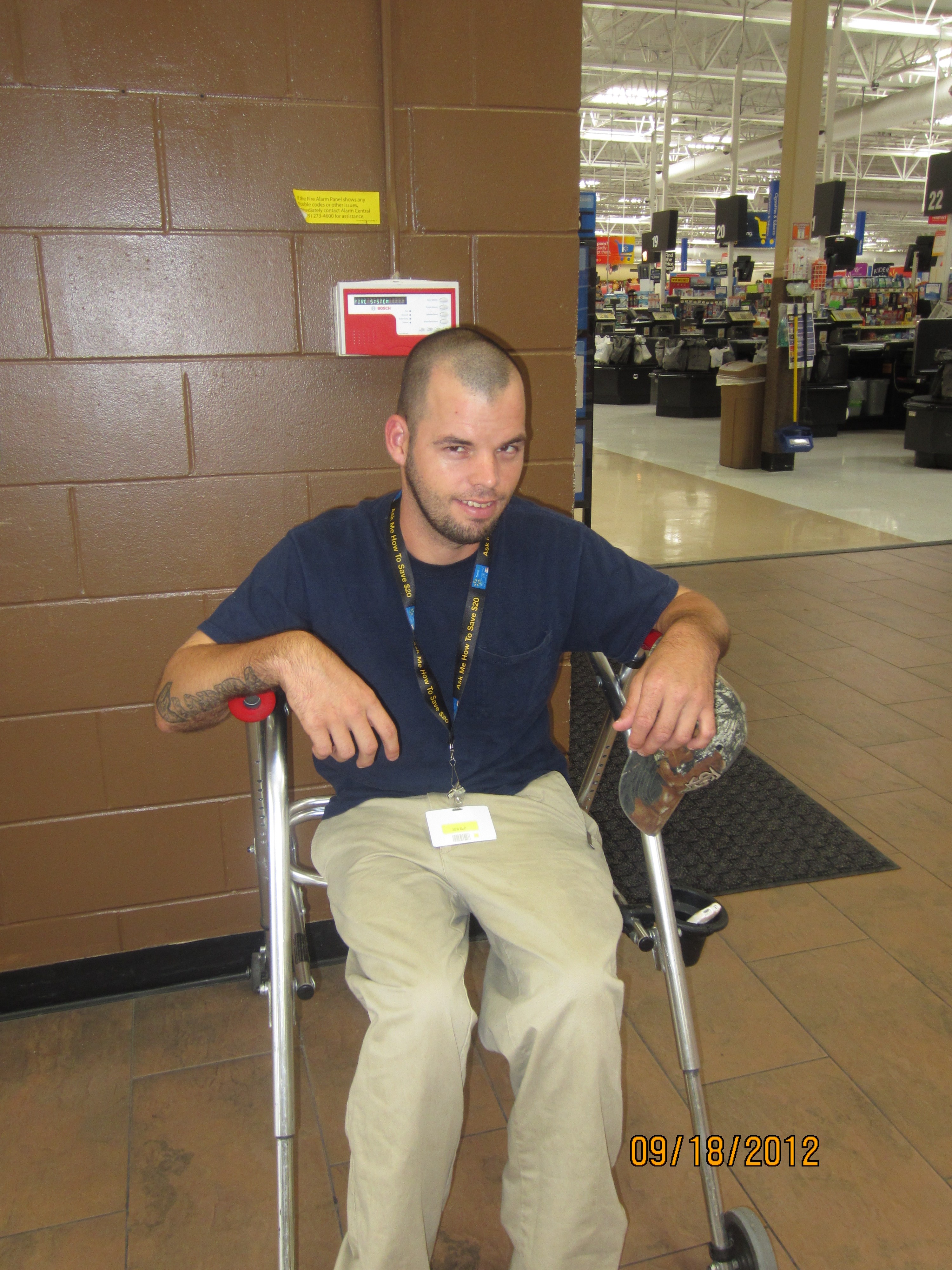 Kelley says, "I like to be around people. I'm hard working and like to make money."
As a door greeter, Kelley welcomes people into the store and responds to customer questions.  His manager Sherry Renwrick states that, "Justin is an excellent worker and he is very pleasant to be around. He maintains a positive attitude and offers his help when it is needed. Justin arrives to work on time and never complains about doing his job. He will also request more hours to work, or stay late if it is required of him.  Justin brings joy to the store just by being friendly and positive."
Justin Kelley has cerebral palsy and receives services from Florida's Agency for Persons with Disabilities (APD). October is Disability Employment Awareness Month and APD is highlighting working Floridians with disabilities during the month.
Kelley says the store managers meet his needs, "I pretty much know everybody around here. I grew up in Lake Wales.  I get along well with everybody. Everybody is nice and I work well with them. They often joke around with me and they all stop at the front to greet me. They all make sure I have everything I need.  I work steady hours and if I have issues, I can ask them, as well as my job coach."
Having a job is an important aspect to Kelley's life. "A lot of people in my situation wouldn't work and work earns me a lot of respect. My job gives me respect to earn money. I want to be respected."
Kelley's long term goals are to advance as high as he can professionally so he can earn enough money to buy a home.
When not working, Kelley likes the great outdoors. He spends many days and nights camping in the woods. Kelley says, "I like to hunt, fish and airboat. I try to go on my airboat almost every weekend. I spend a lot of time in the woods too."
APD supports people with developmental disabilities to live, learn, and work in their communities. The agency annually serves more than 50,000 Floridians with autism, cerebral palsy, spina bifida, intellectual disabilities, Down syndrome, and Prader-Willi syndrome. For more information about the Agency for Persons with Disabilities, visit APDcares.org or call toll-free 1-866-APD-CARES (1-866-273-2273).
###
PHOTO CAPTION—Justin Kelley prepares to greet customers as they come to shop at the Wal-Mart in Lake Wales.