---
QI Director:
Karen Hartlieb
Office Address:
2295 Victoria Avenue
P.O. Box 60085
Fort Myers, FL 33906
Main Phone Number:
(239) 338-1370
Main Fax Number:
(239) 338-1355
Counties Served:
Charlotte, Collier, Glades, Hendry, and Lee
Area News & Announcements
---
Area Training Information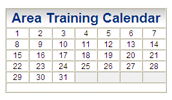 ---
Field Contacts
---
Field Resources
---
APD Resource Directory
Resource Search

A searchable directory of local, state, and national resources and services.

Planning Resources

This directory is a good starting point for finding a variety of natural and community supports, in addition to services provided by government agencies.
---
Field Suggestion Box

Submit your suggestions to APD for improving supports and services in your community
---
Provider Recruiting Opportunities
Becoming a Provider is a free process.
Area 8 is currently recruiting providers for Family and Supported Living Waiver Services: Environmental Accessibility Adaptations and Assessment, and Supported Living Coaching.
Contact Ed Ruley, Provider Enrollment at the area office if you are interested in obtaining information about becoming a provider.
---
Area Steering Committee

Projects and Activities planned by the Steering Committee/Area Quality Leader
Enhancing communication and networking between APD, Delmarva, Service Providers, Family Members and Self Advocates.
Provide training and information for self-advocates, their family members/guardians on how to select, interview and hire providers who will provide the services best suited to the needs of the individual being served.
Provide training opportunities for area providers to enhance the quality of the services they provide to reflect the choices and goals of the individuals they serve