Meaningful Work A Priority
By Barbara Palmer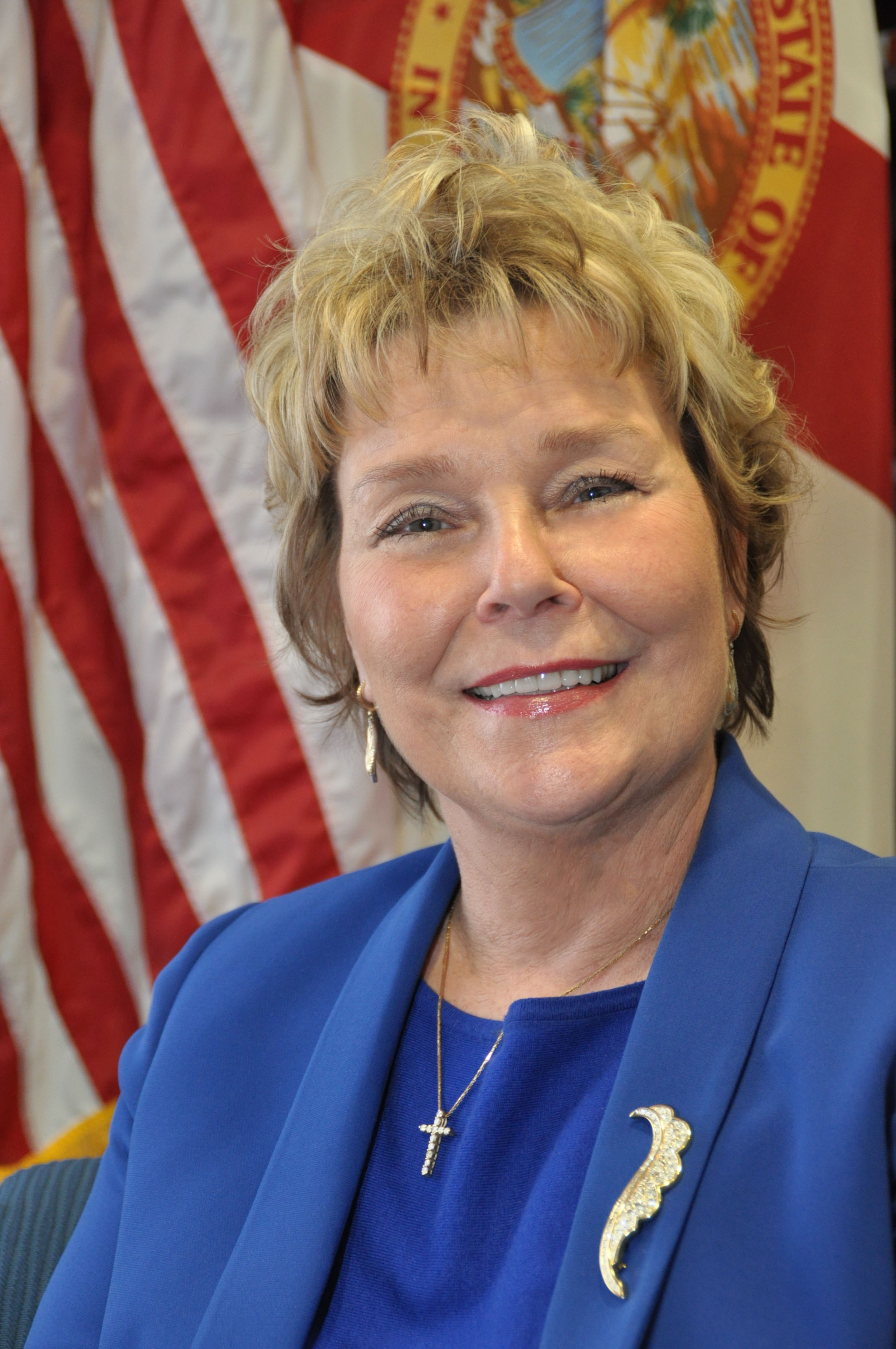 One of the top priorities of the Florida Agency for Persons with Disabilities (APD) is to help people with developmental disabilities find employment. APD customers tell us they want to be able to find and keep a job just like anyone else. The agency provides services, like job coaching, to ensure that individuals are able to keep their positions for the long term.
October is when the entire nation focuses on employment opportunities for people with disabilities because it is Disability Employment Awareness Month. Florida's theme for the month is Abilities Work.  On September 23, Governor Scott and the Cabinet declared October as Disability Employment Awareness Month in Florida.
This past year, Governor Rick Scott recommended and the Florida Legislature supported providing $500,000 for on-the-job training and internships. These dollars helped 170 people find jobs or internships, many for the first time. These opportunities to learn job skills are invaluable. Additionally, APD has more than 3,500 of its customers who are successfully working.  When people with disabilities are working they are relying less on others to meet their needs. Anyone who is working feels more valued and better about themselves. It is a smart investment.
APD customer Rachel Caylor has worked at a Pensacola Walmart for seven years. Caylor recently moved up to a cashier position, which was her goal. Caylor's Supervisor, Shalawn Kennedy, was impressed with Caylor's persistence and willingness to volunteer to help as a cashier so they offered her the permanent cashier position. Kennedy said, "Rachel has a great work ethic. She is an all-around girl because she is knowledgeable about a lot of areas. She is reliable and dependable. Rachel does what is asked of her, then more. She is also great with customers."
Individuals just want a chance to prove themselves to a willing employer. APD works in partnership with the state's Vocational Rehabilitation (VR) program to provide support that the individual and the employer may need to ensure a successful job match.
I hope to see more people with disabilities finding long-term careers, like Caylor. We need companies that are willing to provide job opportunities to all people who are qualified and able to perform the work. I want to assure you that APD, VR, Blind Services, Department of Economic Opportunity, Veterans' Affairs, and other programs are here to help your organization make the best job match. And we will be there in the future should either party need assistance. We want the partnership to be a win-win for everyone involved and your organization to have a dedicated employee, just like Rachel Caylor.
---
Cabinet Declares Disability Employment Month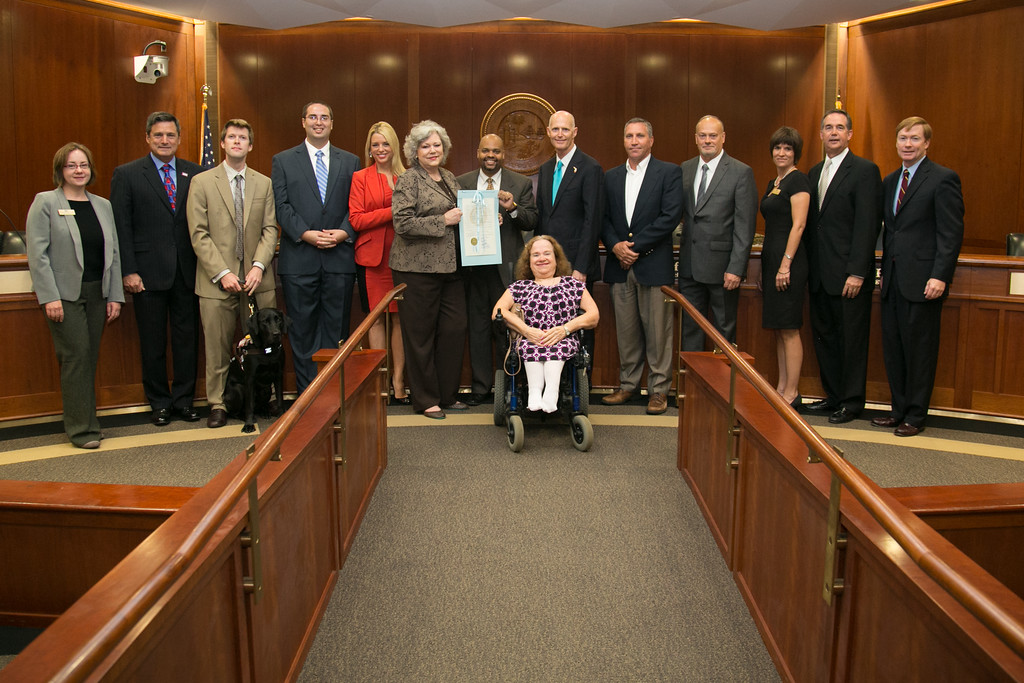 Florida Attorney General Pam Bondi introduced a resolution at the September 23 Cabinet meeting declaring October as Disability Employment Awareness Month in Florida. It was approved unanimously.
Department of Health Information Technology employee, Joseph Show, addressed Governor Rick Scott and the Florida Cabinet on the importance of including people with disabilities in the workforce.
Along with Show, Agency for Persons with Disabilities Deputy Director of Operations Tom Rankin, Vocational Rehabilitation Director Aleisa McKinlay, Blind Services Director Robert Doyle, Department of Veterans' Affairs Executive Director Mike Prendergast, Governor's Commission on Jobs for Floridians with Disabilities Executive Director David Darm, and Able Trust Senior Vice President Guenevere Crum were there to accept the resolution.
---
Workgroup Public Meeting
On September 18, the Agency for Persons with Disabilities (APD), held a public meeting to provide updates on the Housing and Service Delivery initiatives. The initiatives focus on the areas of Alzheimer's and Aging, Dual Diagnosis (of mental health and a developmental disability) and Intensive Behaviors, and Forensics. The purpose of the meeting was to present the recommended service models and discuss steps for moving forward.
The Alzheimer's and Aging group discussed recommendations that are meant to help caregivers and APD customers age in place together, either in their own home or in an alternate setting, and to implement transition planning earlier so that future care and living arrangements can be made for both.
The Dual Diagnosis and Intensive Behaviors group came up with recommendations designed to prevent or mitigate crisis episodes related to mental health and/or intensive behavior needs, to get the customer and their caregivers' treatment and training, and help the customer stay in their current setting. The recommended models included:
Developmental Disability Assessment Teams (DDAT) to intervene in the home and hopefully prevent movement into a residential facility,
short-term residential services for stays up to 30 days,
transitional homes for stays between two and twelve months, and
long-term homes for stays over one year.
The DDAT teams would also work with customers and caregivers if a customer had to be placed in a residential facility in order to ensure that, when the customer returned to their original setting, supports and training were in place to prevent another crisis resulting in a residential facility placement. These teams will be involved in the individual's treatment plan for continuity of services and placement recommendations. All treatment options are meant to prepare the customer to move back into their original home.
The recommendations for Forensics included developing a rate structure for bundled forensic services similar to the Intensive Behavior model, offering specialized and advanced training for providers, and developing a rate structure based on the need and level of supervision for each forensic customer.
APD will be releasing a Request for Information (RFI) in order to get stakeholder input on how proposed service models can best be implemented, including what resources and requirements need to be in place to implement them successfully, and what costs may be incurred. Before publishing the RFI, each of the subgroups will meet once more, before October 10, to specify services recommended under each model and to create a draft RFI for that particular service area. Information on the meetings, including time and date, as well as notes from the September 18 meeting, will be available at: http://apd.myflorida.com/publications/legal/.
---
Hurst Finds Expression in the Kitchen
By Richard Bist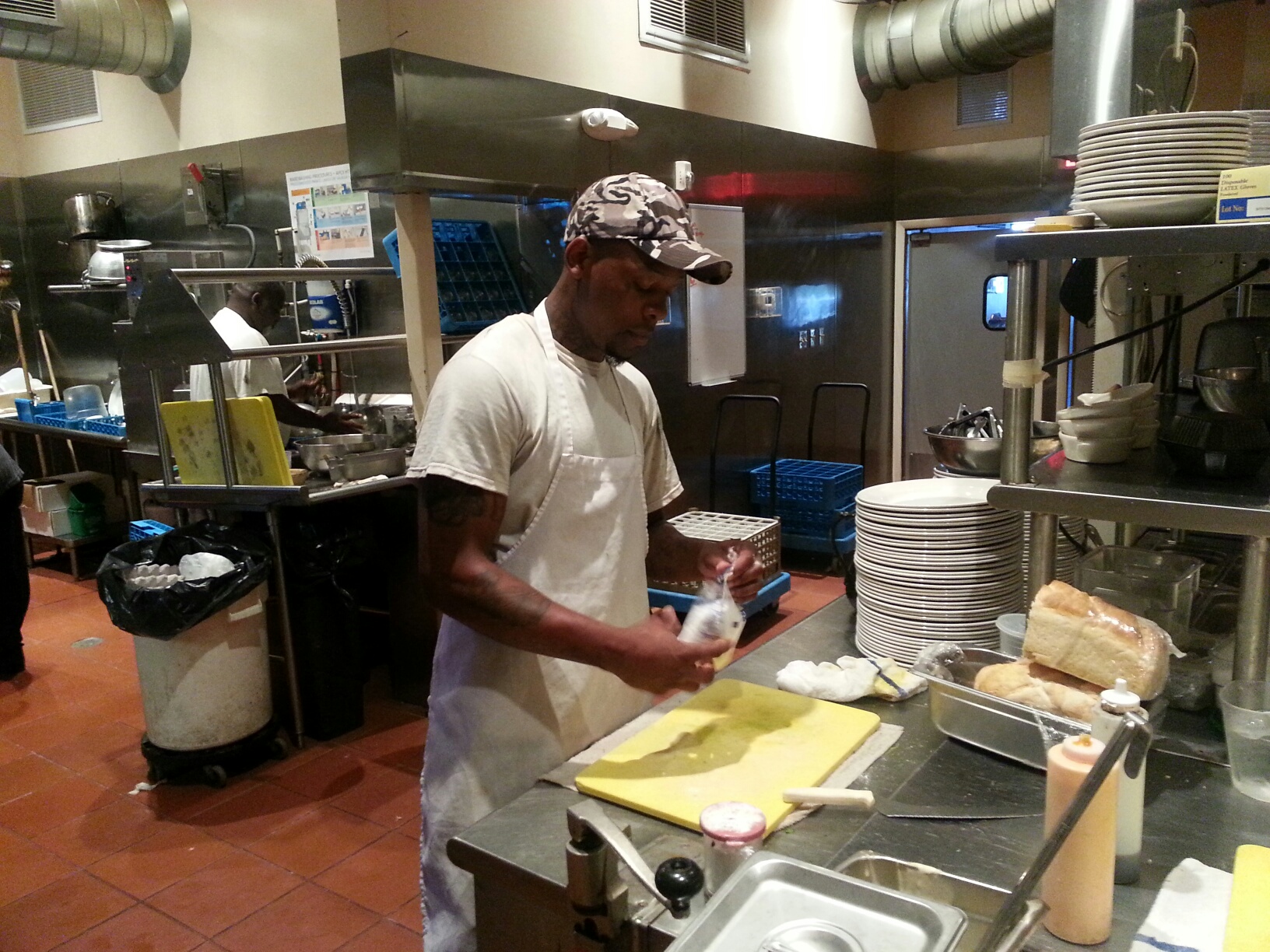 Artistic expression can take many forms, and Michael Hurst found his in the kitchen at Polonzo Bistro. Despite having limited kitchen experience, it only took Hurst one year to move from an intern dishwasher to head chef. Now he spends his time creating breakfast and lunch dishes for an ever-growing clientele.
October is Disability Employment Awareness Month, and the Agency for Persons with Disabilities (APD) is highlighting the contributions of people with disabilities to the work force.
APD Employment Liaison Katrina Washington knew that Hurst had potential, even though he had limited employment experience. She went to Polonzo Bistro hoping to get Hurst an internship. What she didn't expect was the impression Hurst would have on his future employer.
Steve Turner, general manager of Polonzo, was drawn to Hurst. "Katrina called and asked if I'd be interested in meeting Michael. When I met him, he was such a soft-spoken, quiet guy. I figured I'd give him a chance and started him off on dishes."
Hurst took his new job seriously, making sure to always arrive on time and taking pride in his work. His dedication did not go unnoticed.
"They saw that I kept my area clean and that I was a quick learner, so they gave me a chance," Hurst said.
Turner was looking for a new chef when the previous one left after graduating from college.
"We were trying out new cooks, but none of them were working out," Turner explained. "So one day I was in the kitchen and saw Michael working on the dishes. I called him to come over and flip an egg. He flipped it like a pro, so I told him he was our new chef. Ever since then, he's been banging it out every day."
Hurst didn't let a lack of experience at the grill slow him down. In fact, the change came naturally, probably due to his artistic nature. In addition to working as a chef, Hurst plans to go back to school to major in art and eventually get his master's degree. His passion, he says, is drawing.
In the meantime, he'll continue to keep the Polonzo customers happy.
"Customers love him," Turner said, "and business has picked up dramatically since he's started cooking."
Hurst's success has led to doors opening for others. When Turner asked him if he knew of anyone who could help out in the kitchen, Hurst recommended his younger brother. Now the siblings work side by side.
Additionally, Turner has been so impressed with Michael that he's asked Washington to bring in more applicants with developmental disabilities.
Hurst is happy to have a job he loves and good people to work with.
"Before I was down because I couldn't get a job and couldn't support my family," he explained. "But this job has given me a head's up on life. Now I'm moving up."
---
Around the State
---
PALS Accepting Applications
By Annette Zeeb
The ARC Gateway Program for Adult Learning and Support (PALS) at Pensacola State College was announced at the Area 1 Family Care Council meeting on September 18. Chief Operating Officer of Arc Gateway Cathy Lauterbach shared information on PALS curriculum that will begin January 1, to serve Agency for Persons with Disabilities (APD) eligible individuals in Escambia and Santa Rosa counties.  The two year program at Pensacola State College incorporates the following components:  academics, independent living skills, career exploration customized career and technical training, and PALS mates. Transportation will be provided by ARC Gateway.
The goal is to prepare the students for competitive employment and independent living in the community. Students must be at least 18 and be able to independently navigate the college campus. Twenty applicants will be selected for the program starting January 1. Another 20 applicants will be selected to start in the fall 2015 semester. Applications for the January 2015 group are due by November 17.  For more information or for an application, contact Cathy Lauterbach at (850) 434-2638 or clauterbach@arc-gateway.org.
---
iBudget Handbook Public Meeting
On September 2, the Agency for Healthcare Administration (AHCA) hosted a public meeting in Tallahassee for the APD iBudget handbook rule. Presenters were pleased with changes so far, but did ask for more clarity and description in some sections of the handbook. The public had until September 9 to submit written comments regarding the rule. Currently, AHCA and the Agency for Persons with Disabilities are reviewing the comments to incorporate changes into the next draft of the handbook.
---
Disability Mentoring Day a Success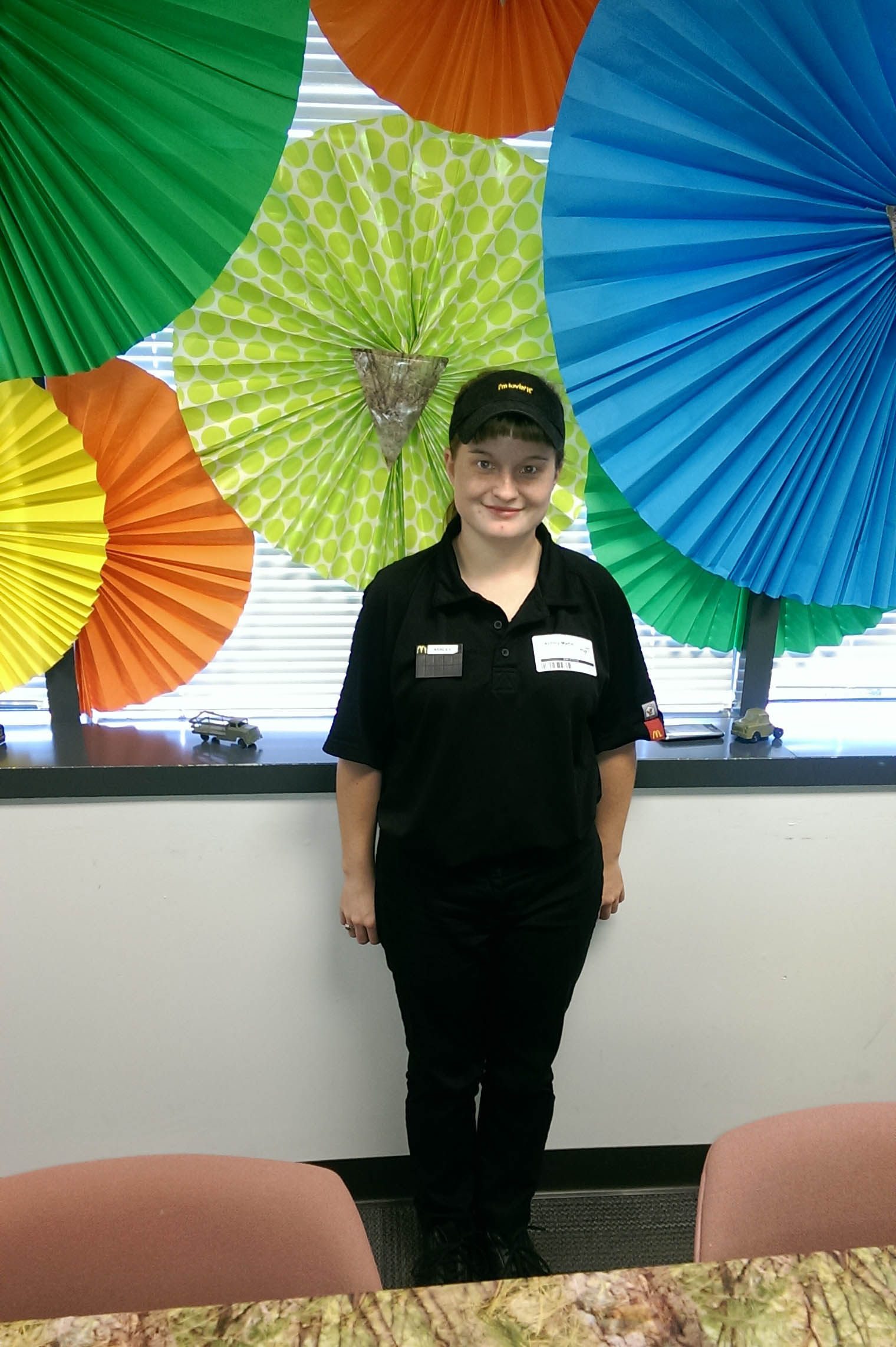 Ashley Martin participated in Disability Mentoring Day at the APD State Office with Director Barbara Palmer in October 2013. At that time, Martin was interviewed by WFSU in Tallahassee and she expressed her desire to work with horses. The owner of Cavallo Farms heard her interview and immediately called the station to get in touch with Martin. She worked with Cavallo Farms for two months. Now Martin has moved to a new job and is currently working at McDonald's. She reports that she loves working with her job coach and learning new job skills.
---
Florida Power and Light
Florida Power and Light (FPL) implemented a cost savings and efficiency initiative at Tacachale in Gainesville in 2012. In order to gain cost savings, FPL took several actions to guarantee savings results. They replaced lighting, installed low flow fixtures, upgraded the boilers, installed programmable thermostats, applied caulking around the windows and weather stripping around exterior door, and provided new manhole covers.
In the first year alone, the guaranteed savings at Tacachale were $327,684 and actual savings exceeded that at $394,835. Now in the second year of the project, the guaranteed savings for 2013-2014 were $337,226 and the actual savings were $467,325.
FPL is now initiating a similar project at Sunland Marianna. Taking the same efficiency actions, projected cost savings for the first year at Sunland are $163,729.
---
Champion Staff
Melanie Mowry Etters - Editor
Lindsey Boyington - Writer
Christine Call - Writer
Kimberly Tharpe - Masthead Design
John Milton - Webmaster

---
The Agency Supports Persons with Developmental Disabilities in Living, Learning, and Working in their Communities.