Go Camping at Rish Park This Summer
By Barbara Palmer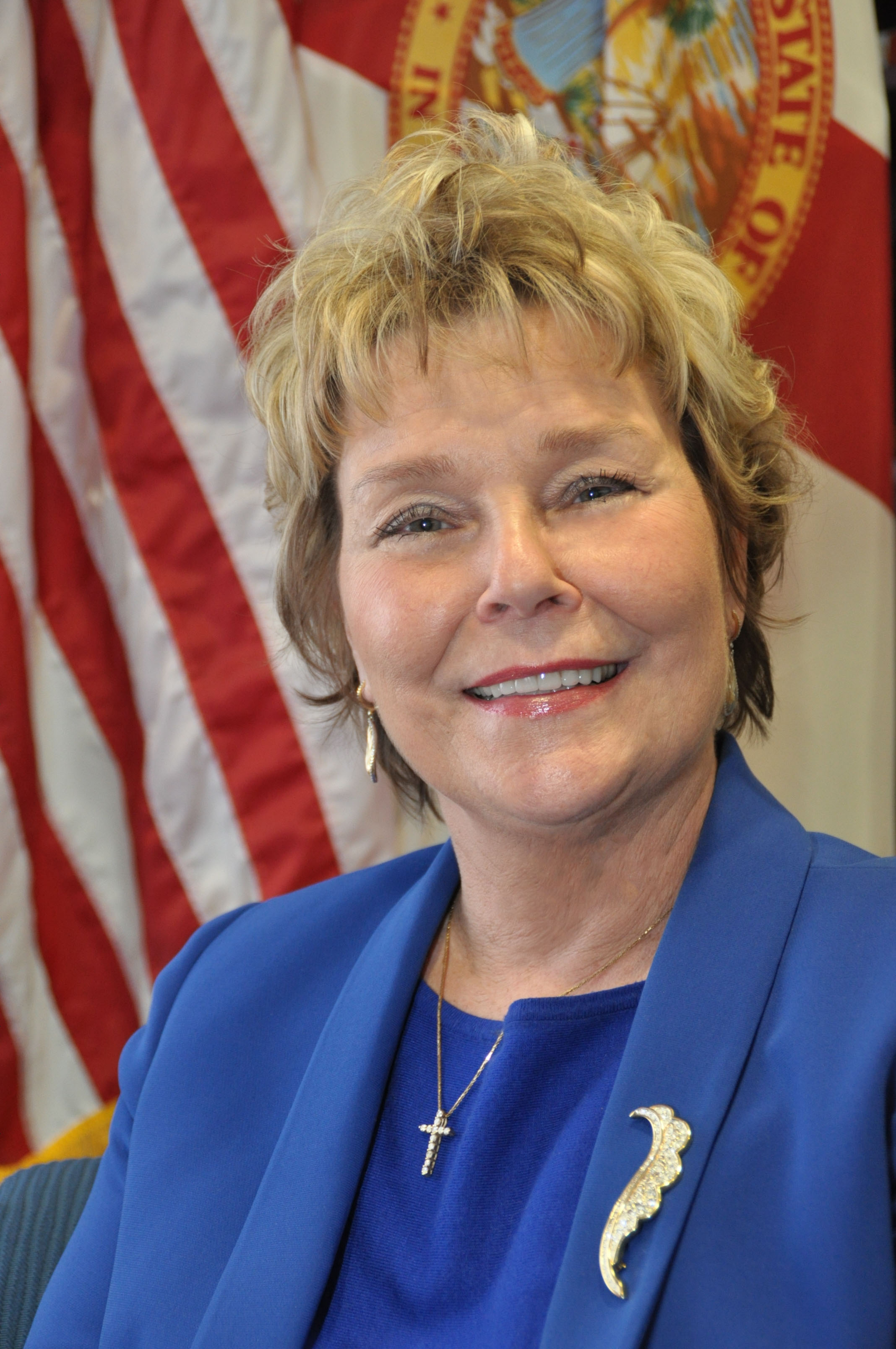 William J. (Billy Joe) Rish Recreational Park on Cape San Blas in Florida's Panhandle is something to see. It is the only park designated for use by individuals with disabilities in Florida. The park has a wheelchair accessible boardwalk that goes all the way down to the Gulf of Mexico.  It has an Olympic-size swimming pool that has a built-in wheelchair ramp that goes into the water. There are cabins that are available to families that have a member with a disability at the bargain price of $15 a person per night. It is the nicest camping people can experience.
If you are an APD customer in North Florida and want to go to the beach for the day, you and your family may spend the day at Rish Park for only $5 a day for each visitor. However, you must call ahead to make sure the park is not full. I want to encourage individuals with disabilities to take advantage of this pristine beachfront park. 
Renovations are underway on the bayside of the park, which will reopen in January 2015. The bayside has been closed for many years due to hurricane damage to the boardwalk. A new wheelchair accessible boardwalk is being built, along with a freshwater fishing pavilion, restroom, and saltwater fishing pier.
Rish Park originally opened in 1975, and is operated by APD. The park is located at 6773 Cape San Blas Road in Gulf County. The park is named after former State Representative Billy Joe Rish who was instrumental in securing the land from the federal government in 1968, and designating it for use by people with disabilities.
If you would like to make a reservation for a day or overnight visit, contact APD's Sunland Center in Marianna at (850) 482-9386.
---
APD Employee Wins Top Award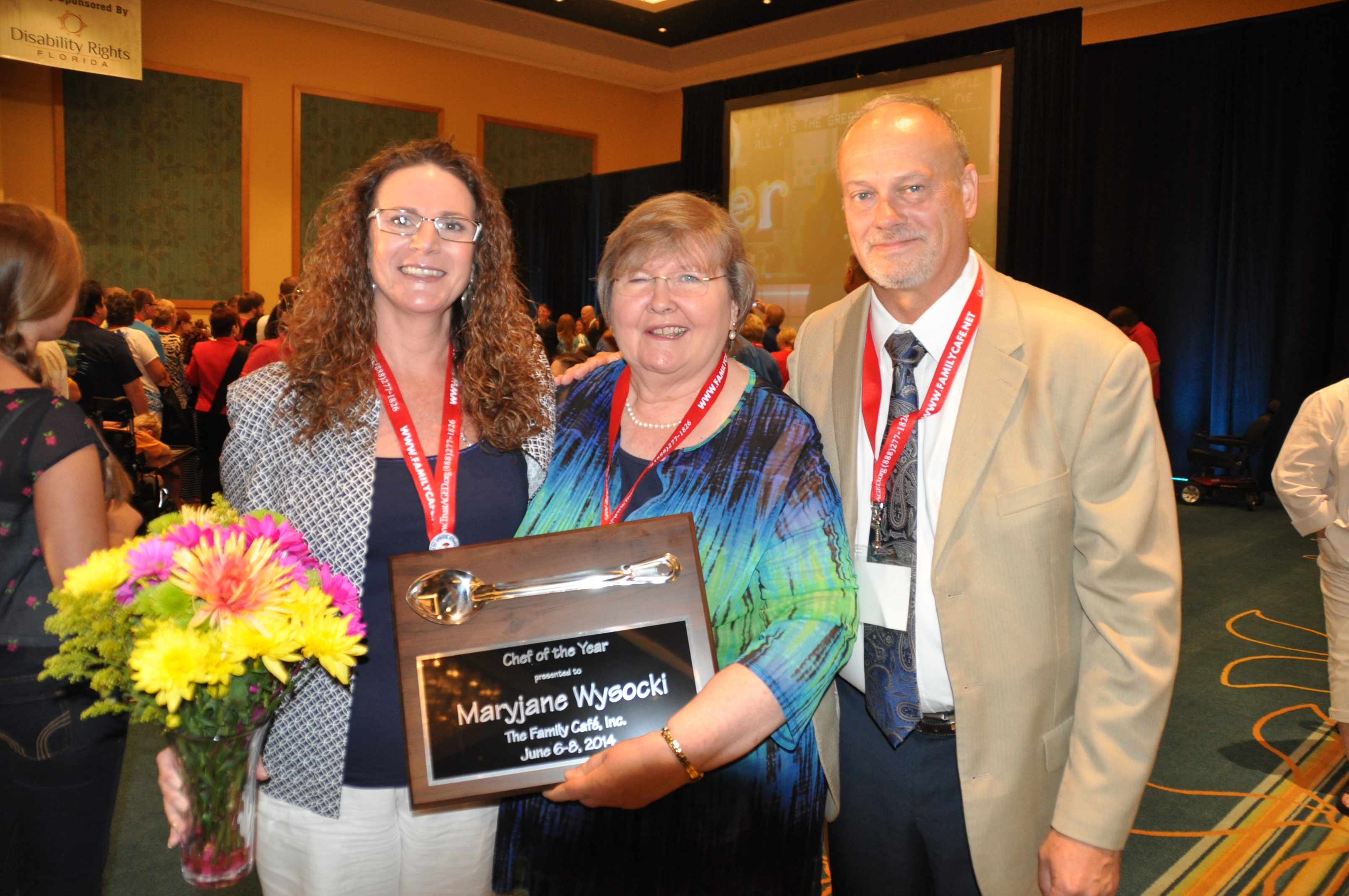 Agency for Persons with Disabilities (APD) employee Maryjane Wysocki was awarded Chef of the Year on June 7 at the Family Café Annual Conference in Orlando. Wysocki serves as an APD Regional Employment Coordinator and assists people in Central Florida from Hernando to Brevard County. She annually organizes a job fair for individuals with disabilities in the Orlando area and is actively involved in the agency's Employment Enhancement Project.
The Family Café Annual Conference provides a single event where parents, providers, self-advocates, state agencies, and non-profit organizations network and learn about available services and supports. The conference annually draws thousands of participates from all over the state.
The Family Café staff and Board of Directors meet to determine who will be awarded Chef of the Year. They consider individuals or groups that are exceptionally helpful in supporting the Family Café's mission; to provide individuals with disabilities and their families with an opportunity for collaboration, advocacy, friendship and empowerment by serving as a facilitator of communication, a space for dialogue and a source of information. Notable past Chefs include Sen. Bill Galvano and Bob Brooks from the Florida News Channel.
Wysocki was chosen because she organizes and hosts an Employment Expo each year at the conference.  Her expo provides job seekers with much needed information and skills and also connects them with potential employers. APD Director Barbara Palmer stated, "I am so happy and proud that Maryjane was selected as this year's Chef of the Year. I can't think of a more deserving employee. APD is lucky to have her."
Click here to view the Family Cafe Photo Gallery
---
Increases for ADT and Group Home Providers
Some Agency for Persons with Disabilities (APD) customers and providers will see a financial increase beginning July 1.  APD group home providers will receive a $40 per person increase for room and board. Also, APD customers will receive a $40 increase in their Personal Needs Allowance if living in an APD-licensed homes. The rates were last increased in 2008.
Adult day training providers will receive about a two percent increase in their rates for serving APD customers starting July 1. This increase was approved by the Legislature in May. For additional information regarding the rate increases, contact your APD Regional Office.
---
Home and Community-Based Services Rule Change
The Centers for Medicare and Medicaid Services (CMS) passed a new rule about how states offer Home and Community-Based Services.  The new rule means people obtain services from providers who:
Work with the person to make the plan of care;
Make the person feel at home if he or she lives in a group home, assisted living facility, or adult family care home;
Help the person be part of his or her community; and
Help the person choose how he or she lives and what he or she does.
The Agency for Health Care Administration (AHCA) developed a preliminary transition plan detailing the steps to be taken to implement the new rule.  The preliminary transition plan is available for public comment from June 25 until July 25.
More information and the preliminary transition plan are available at: http://ahca.myflorida.com/Medicaid/hcbs_waivers/index.shtml
---
Nominate an Exceptional Employer Today!
The Agency for Persons with Disabilities is looking for businesses that are committed to employing individuals with disabilities. The agency is accepting nominations of outstanding businesses from across the state until August 15. APD and other disability agencies plan to recognize the winning employers on Wednesday, October 1. October is National Disability Employment Awareness Month. Visit apdcares.org to submit an Exceptional Employer nomination.
The awards event will be held at the Tallahassee City Commission Chambers, 300 South Adams Street. Information displays will be on the Second Floor Mezzanine beginning at 8:30 a.m.. The employer recognition will begin at 9:30 a.m. Some of the organizations participating are Vocational Rehabilitation, Blind Services, Able Trust, Veterans' Affairs, City of Tallahassee, and the Department of Economic Opportunity.
---
Life is Better with Music
By Lindsey Boyington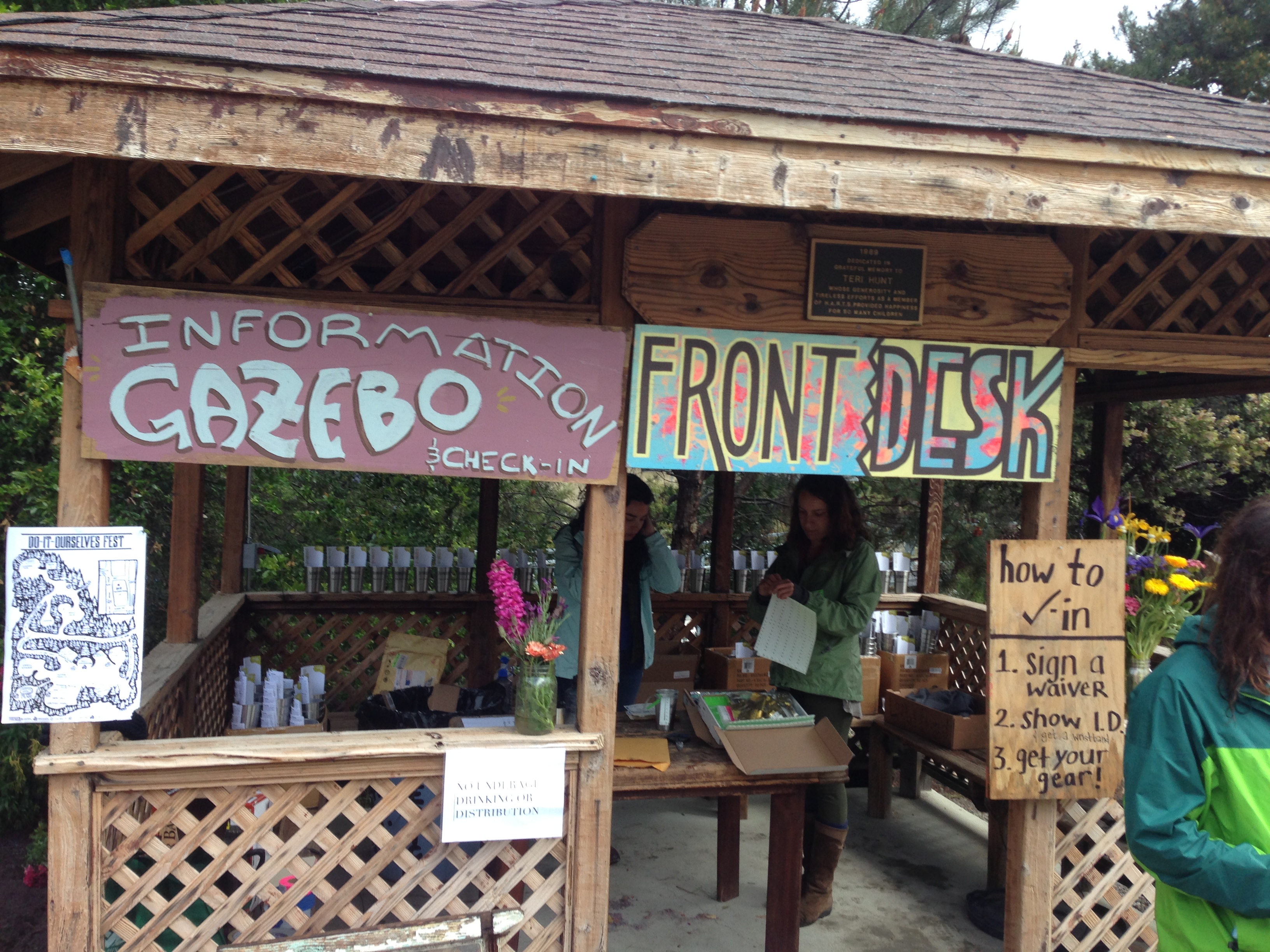 In late November, APD employee Jonathan LaBeaud and his friend Steven Stubblefield, were in full-on planning mode for the second Do-it-Ourselves (DIO) Fest, a three-day music festival to benefit the Camp Krem Music Enrichment Program.  Camp Krem, home of DIO Fest, is a camp for adults and children with disabilities and is located in the mountains of Boulder Creek, California.  DIO Fest 2014 was held on April 25-27.
LaBeaud said that creating this type of music festival had always been just a pipe dream. Late in 2012, he and Stubblefield decided to just make it happen. They had no idea how much work would be involved, but they were able to get it planned in about four and a half months. DIO Fest 2013 offered many lessons learned, and helped them better prepare for this year's festival.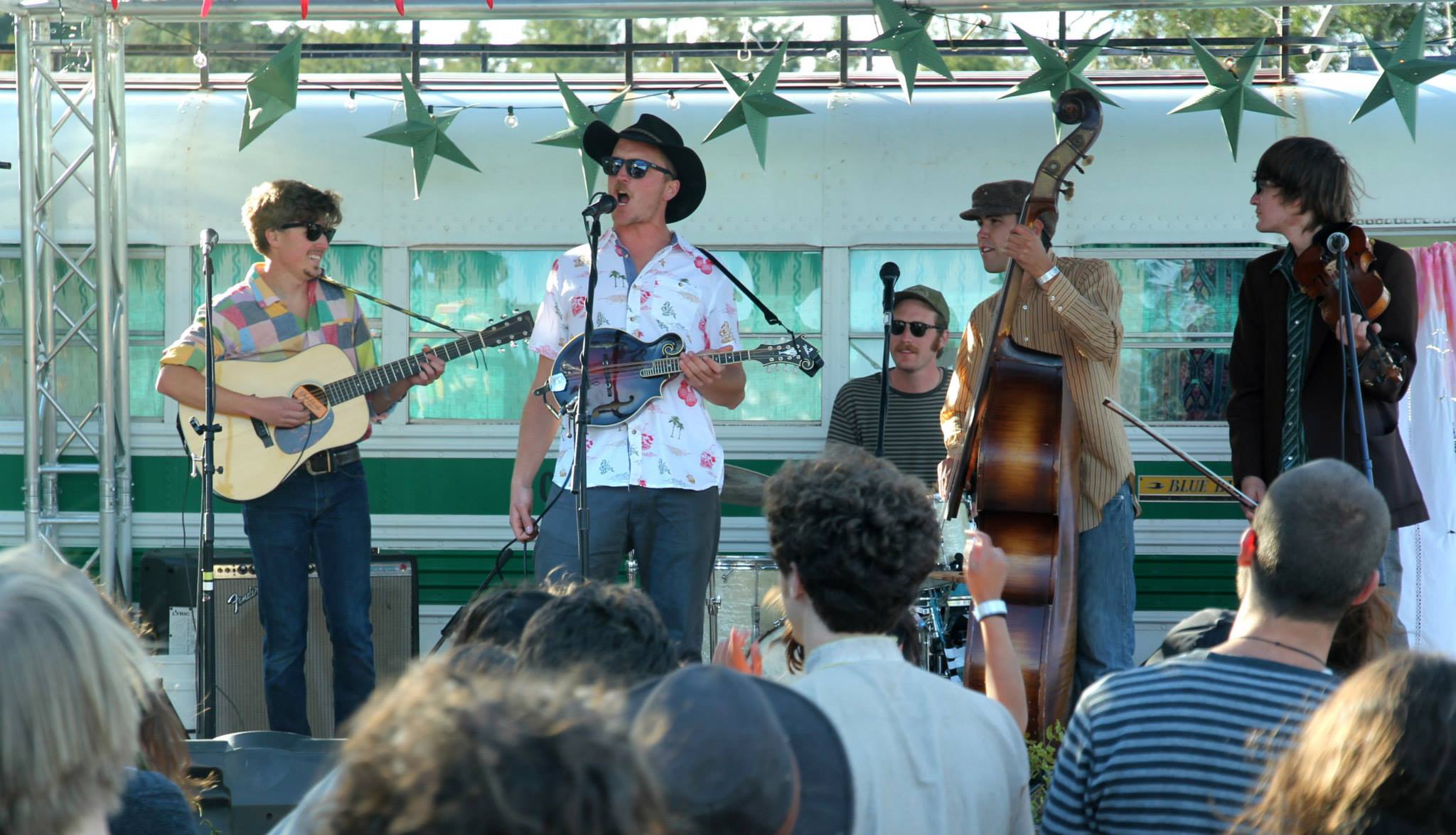 LaBeaud and Stubblefield, along with two additional directors, and about 60 volunteers worked countless hours to make DIO Fest 2014 a smashing success. The festival included about 22 live bands, workshops, jam sessions, a photo booth, yoga, and a swimming pool.  The bands were local talent that were friends or mutual friends of LaBeaud and Stubblefield.  LaBeaud said that bands are already contacting them for next year's event! DIO Fest 2014 was in fact a success and raised more than $5,000 towards the Camp Krem music program.
For more information on DIO Fest and Camp Krem, visit their website at http://diofest.com/.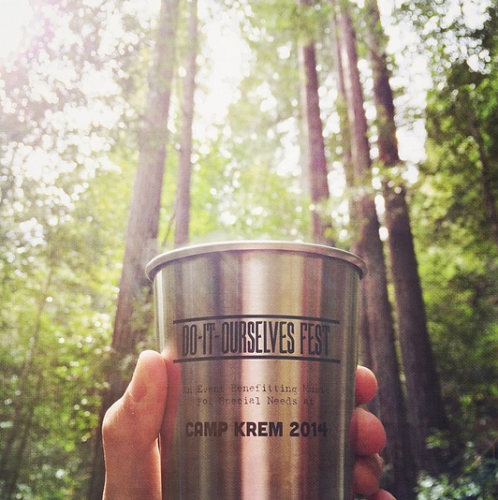 ---
Maxxing Out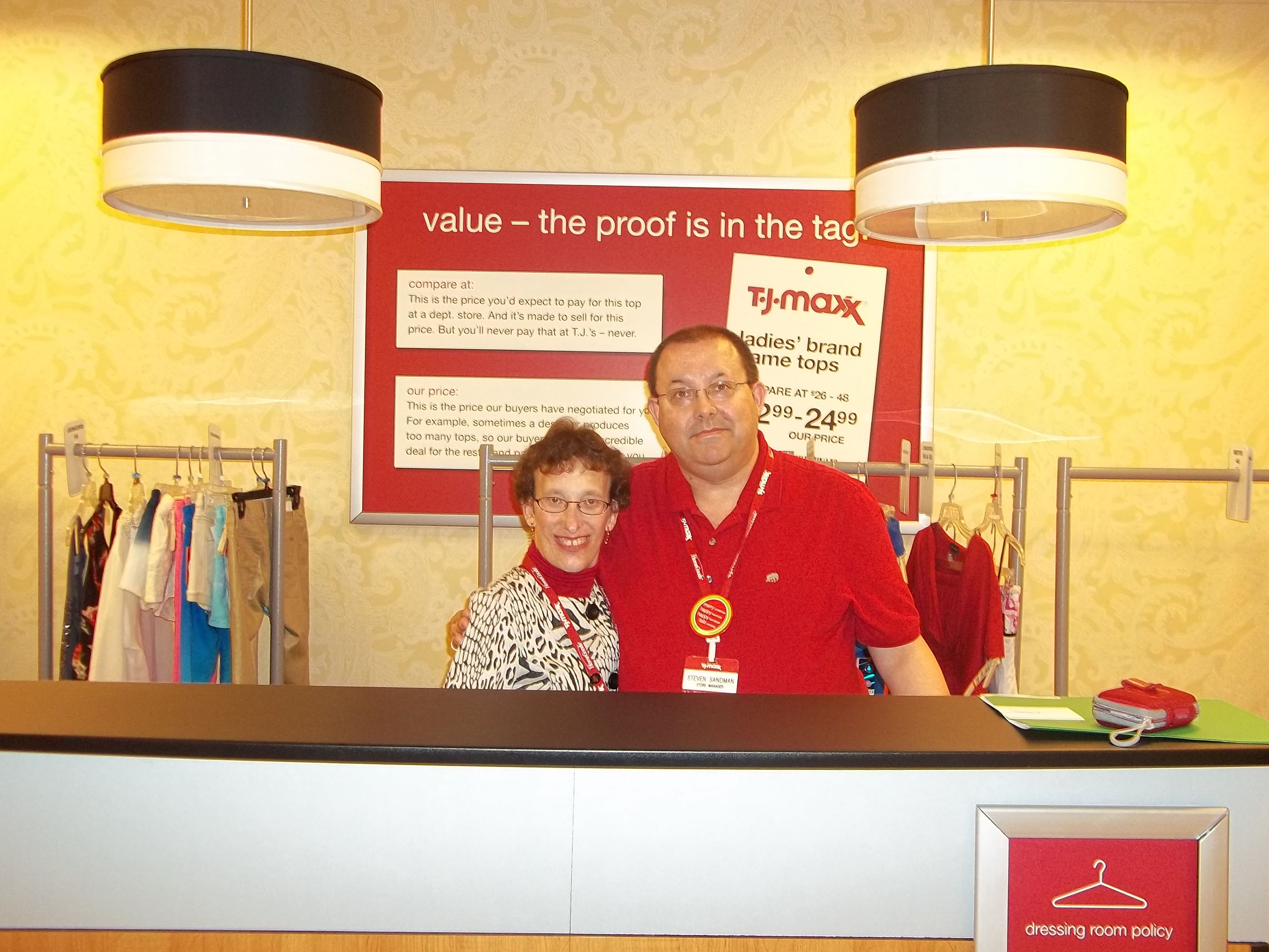 Yvonne Fleming takes great pride in her accomplishments and has a lot to be proud of. Yvonne is employed at TJ Maxx, a department store in Gainesville. Her main duty is to make sure the fitting rooms operate smoothly. This includes providing exemplary customer service, following policy for the number of allowable items to be taken into the dressing rooms and assuring they come out, maintaining the cleanliness of fitting room and being able to operate a headset communication system. This particular location is the highest volume store within the company.
The store in which Fleming works is in a college town. The Store Manager Steve Sandman said, "There has never been a complaint since she has been employed and the customers and co-workers appreciate and respect her high level of professionalism. There are plans in the future to expand Yvonne's duties and provide exposure to another area of the store. She is a role model for others to follow. Yvonne always comes to work on time and is very dependable."
When asked about her work, Fleming said, "I am a people person and I want to work." She is very excited to be able to advance into merchandising at the store. She stated, "I enjoy my job as it has allowed me to build self-confidence, make friends, and build lasting relationships." She has been nominated Associate of the Year three times in a row.
This month, Fleming will be celebrating her six year anniversary as a TJ Maxx employee and team member. She was previously employed at another TJ Maxx location for four years. This gives her 10 years with the company. Fleming lives in her own home and is a valued member of her community. She is living the American Dream!
---
Around the State
---
Teamwork Celebration
By Maria Angeles Linares
On June 2 the Southern Region held its last quarterly meeting of the Supported Employment (SE) Providers for the fiscal year.  The agenda was packed with information and issues to discuss.  What our providers did not know was that each of them was going to be recognized for the integral role they played in the Employment Enhancement Project or as we affectionately refer to it, EEP.
The EEP began in January 2014.  The following six months were full of promise, new lessons to learn, and difficulties to overcome.  The EEP team and the SE Providers were in this together, through thick and thin.  We all worked very hard, forged new friendships and relationships, and successfully placed 17 customers in competitive employment and 10 customers in internships that have a possibility of leading to competitive employment.  This was indeed a cause for celebration.
The EEP team decided to conclude the meeting and the fiscal year by presenting each SE Provider with a Certificate of Appreciation.  In addition, the SE Providers who successfully placed a customer in competitive employment received a Certificate of Recognition.
---
World Elder Abuse Awareness Day
By Annette Zeeb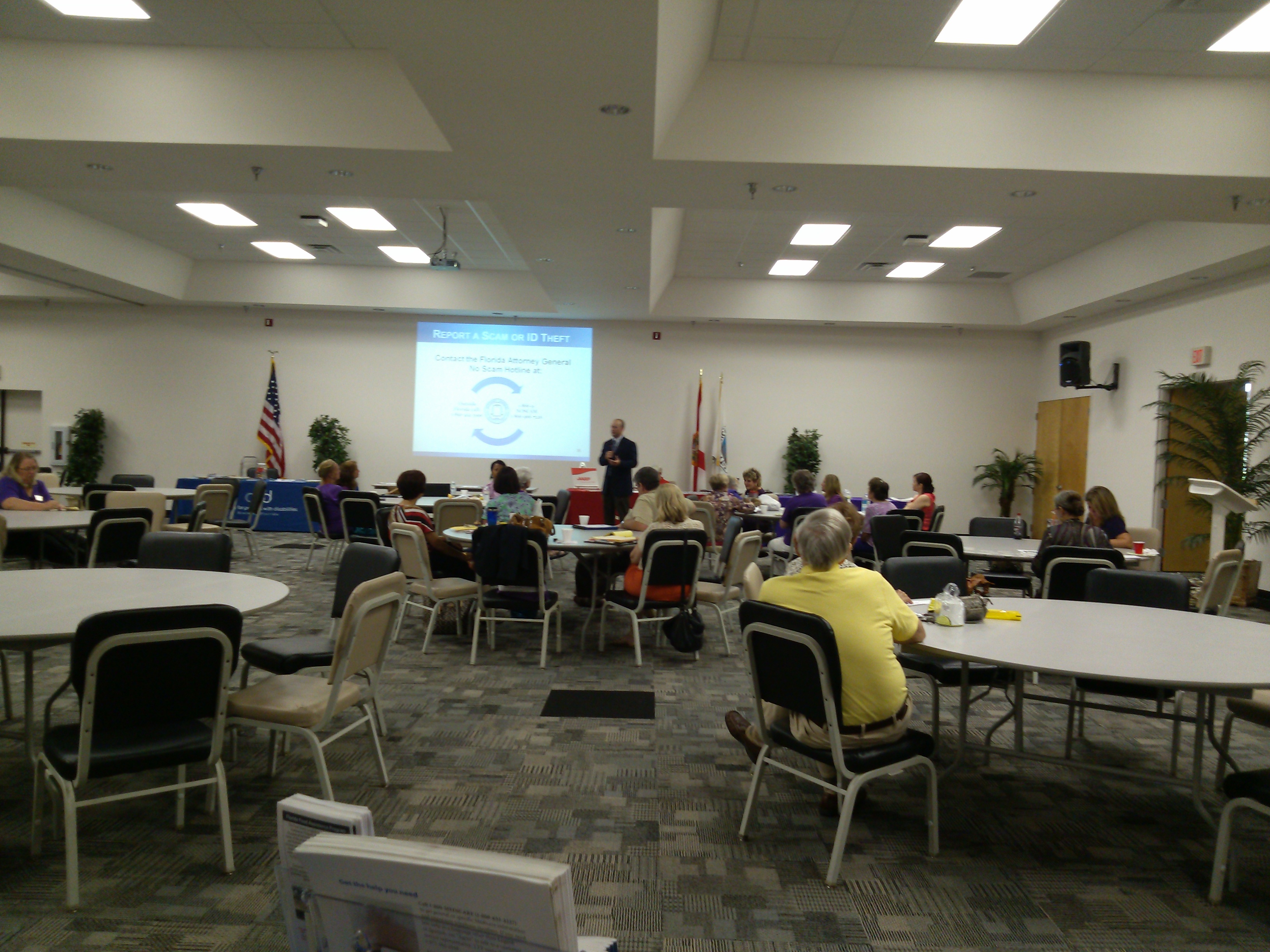 The Agency for Persons with Disabilities Northwest Region participated as a community resource in the World Elder Abuse Awareness Day events held the week of June 9 throughout area one.  The June 9 event, held in Niceville, featured Michael Dasinger with the Victims Services Unit of the Office of the Attorney General.
Because Florida has the most fraud complaints and identity theft crimes, Dasinger shared information on scams in Florida and how to prevent identity theft.   Some website links of interest are:  www.optoutprescreen.com to stop receiving credit card offers or www.800helpfla.com to get on the do not call list along with information on scams.
The Seniors vs. Crime Project is a non profit organization of senior volunteers (age 50 and up) working to right civil wrongs for Florida seniors and to educate seniors about scams and fraud.  Please visit www.seniorvscrime.com to find more information and locations.
Cameron Howard with the P.A.N.E. (Patient, Abuse, Neglect, Exploitation) Medicare Fraud Control Unit of the Office of the Attorney General shared information on signs of abuse and neglect, medication mismanagement and the consequences of committing Medicaid Fraud/Neglect at the Niceville event and the June 13 event in Pensacola.  Christi Hankins, Assistant Attorney General with the Medicaid Fraud Control Unit of the Office of the Attorney General, provided information on elder abuse along with the warning signs of exploitation at the Pensacola event.
Scammers target polite people because they have a harder time saying no.  Adult Protective Services explained their process at both events.  The Florida Abuse Hotline (1-800-962-2873) is staffed 24 hours a day.  Everybody is a mandatory reporter and should call if there is reasonable cause to suspect abuse.  When calling the hotline, please provide the victim's name, address, and what happened.
---
Expect. Employ. Empower.
By Annette Zeeb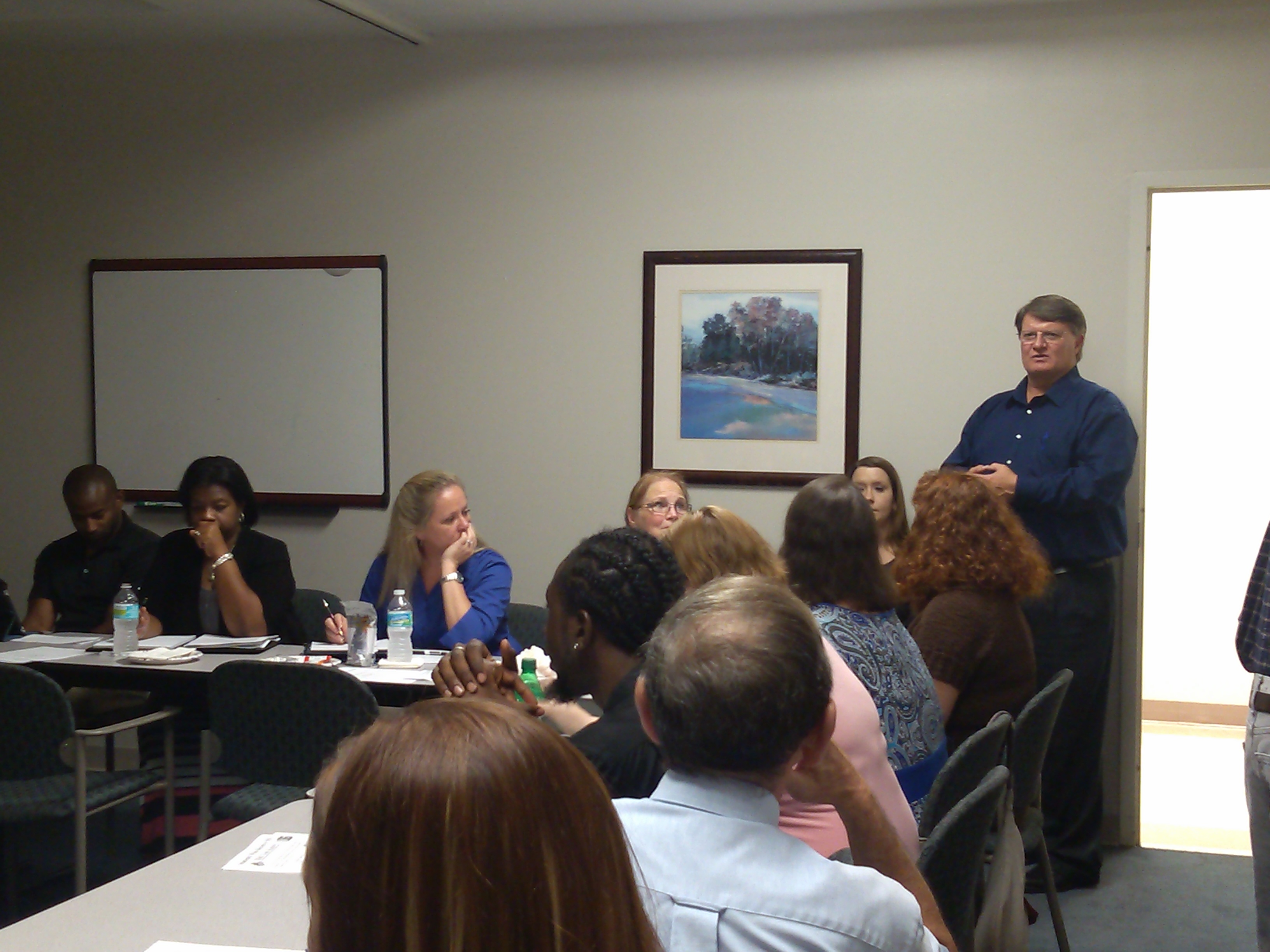 The theme for the October 2014 National Disability Employment Awareness Month is Expect. Employ. Empower. This was the theme Northwest Region Employment Liaison Katrina Washington used to share the benefits of hiring individuals with disabilities with the Panhandle Business Leadership members on June 19 in Pensacola.
Washington encouraged local businesses to provide mentoring, job shadowing, apprenticeship, and internship programs to individuals with disabilities. Employment opportunities enable people with disabilities to become part of their community and become independent.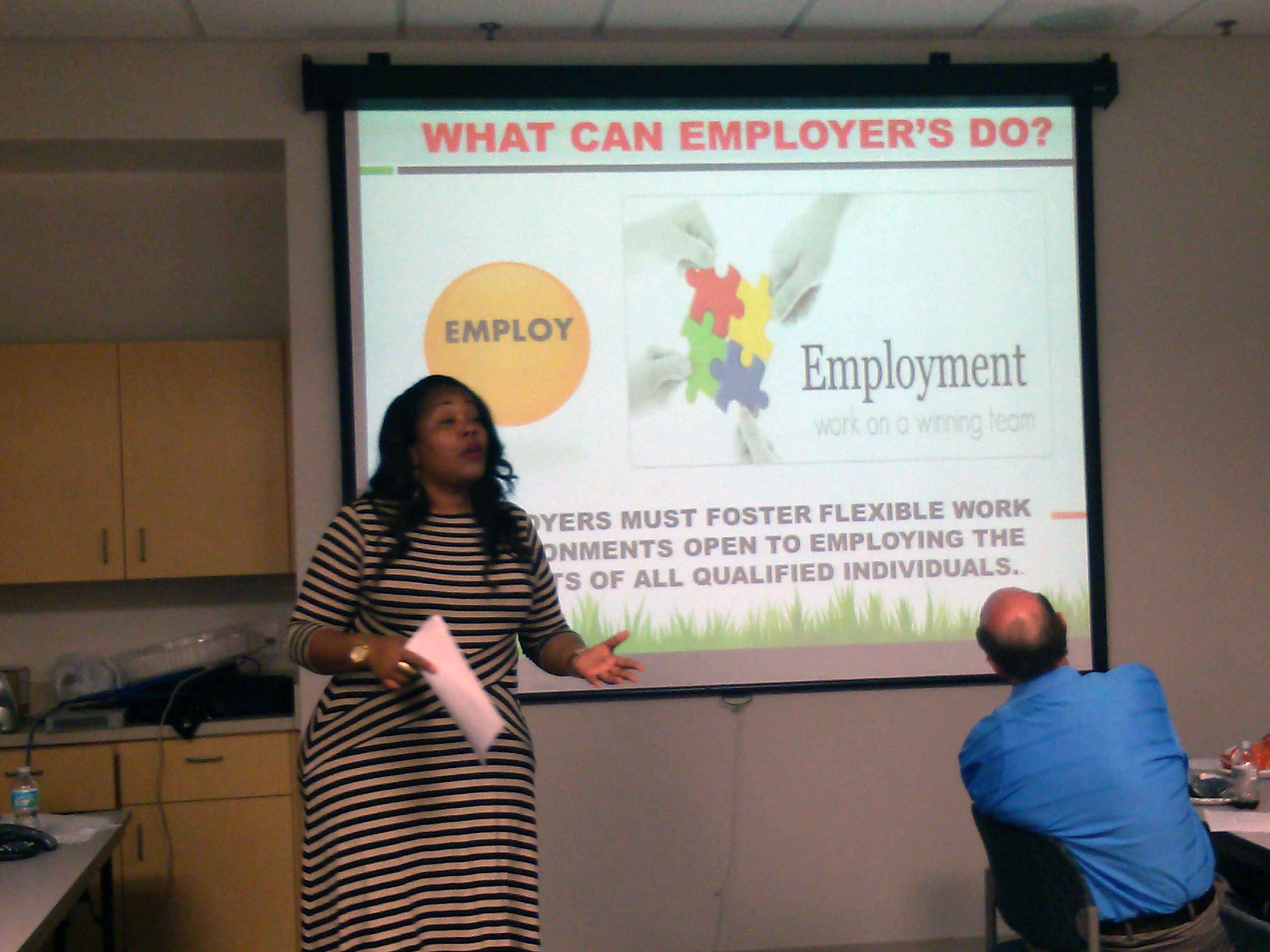 Business members were encouraged to collaborate with the Agency for Persons with Disabilities for assistance with training and hiring needs. Employers who have provided employment opportunities to individuals with disabilities were applauded for their continued support.
---
Tacachale Plumbing Team PPA Winners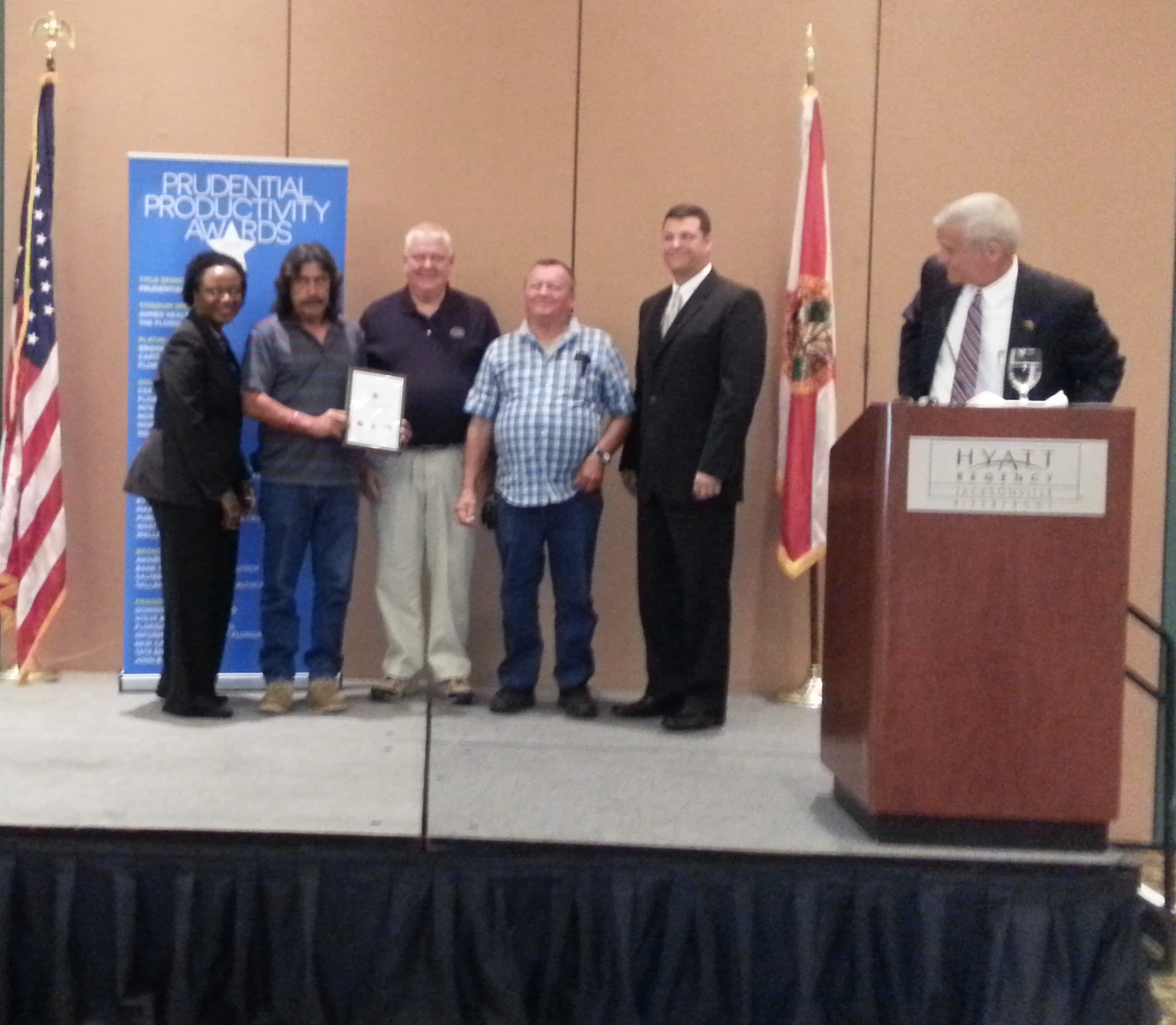 The Tacachale Plumbing team was honored at the Prudential Productivity Award ceremony in Jacksonville on June 9.  The Tacachale Plumbing team initiated a cost-savings project that involved changing the elevation of campus manhole covers to eliminate waste water intrusion.  Based on the team's timely observations and expert knowledge of the water movement process, surveyors endorsed the project.
Savings for the Wastewater Reduction project were initially estimated at $12,736, according to a survey.  The actual savings reached $43,916 during the first year.  As a result, the agency realized an additional cost savings of $31,180, more than doubling the original estimate.  This bonus savings will continue annually for the life expectancy of the equipment.
The Tacachale Plumbing team Prudential Productivity Award winners are:  Roy Park, Leonard Tomlinson, Allen Starling and Steve Smith.
---
Public Guardianship in Florida
The mission of the Statewide Public Guardianship Office (SPGO) is to ensure that every Floridian who requires the services of a guardian has access to a qualified guardian. Florida's program had been limited to only a few areas of the state until this legislative session.  The first week of June, Governor Rick Scott signed Florida's 2014–15 budget which includes $3 million recurring dollars for public guardianship allowing for the first time the establishment of public guardian services within each county in Florida.
The SPGO directs local public guardian offices to provide guardianship services to people who  cannot afford a private guardian and who have no willing family or friend to serve. Here is a link to the website listing Florida's public guardianship offices and the counties they serve:  http://elderaffairs.state.fl.us/doea/ spgo_public.php.  This page will be updated as contracts with the new public guardian are finalized.
In January 2013, SPGO only had contracts for public guardianship coverage in 27 of Florida's 67 counties. In less than one year and with the assistance of the Foundation for Indigent Guardianship (FIG), SPGO accomplished full coverage with non-recurring funding in all 67 counties.  With the signing of the 2014-15 state budget, Florida will join Delaware as the only two states to have public guardianship coverage in every county.
While guardianship is the most restrictive option for legal representation, for APD customers with no assets and no family involvement, this may be the answer to escaping abuse, neglect and financial exploitation.  This is the perfect time for you to get to know the public guardian who serves the counties where your clients reside.
---
APD Staff Presents to the 3rd World Congress on Adult Guardianship in Washington, D.C.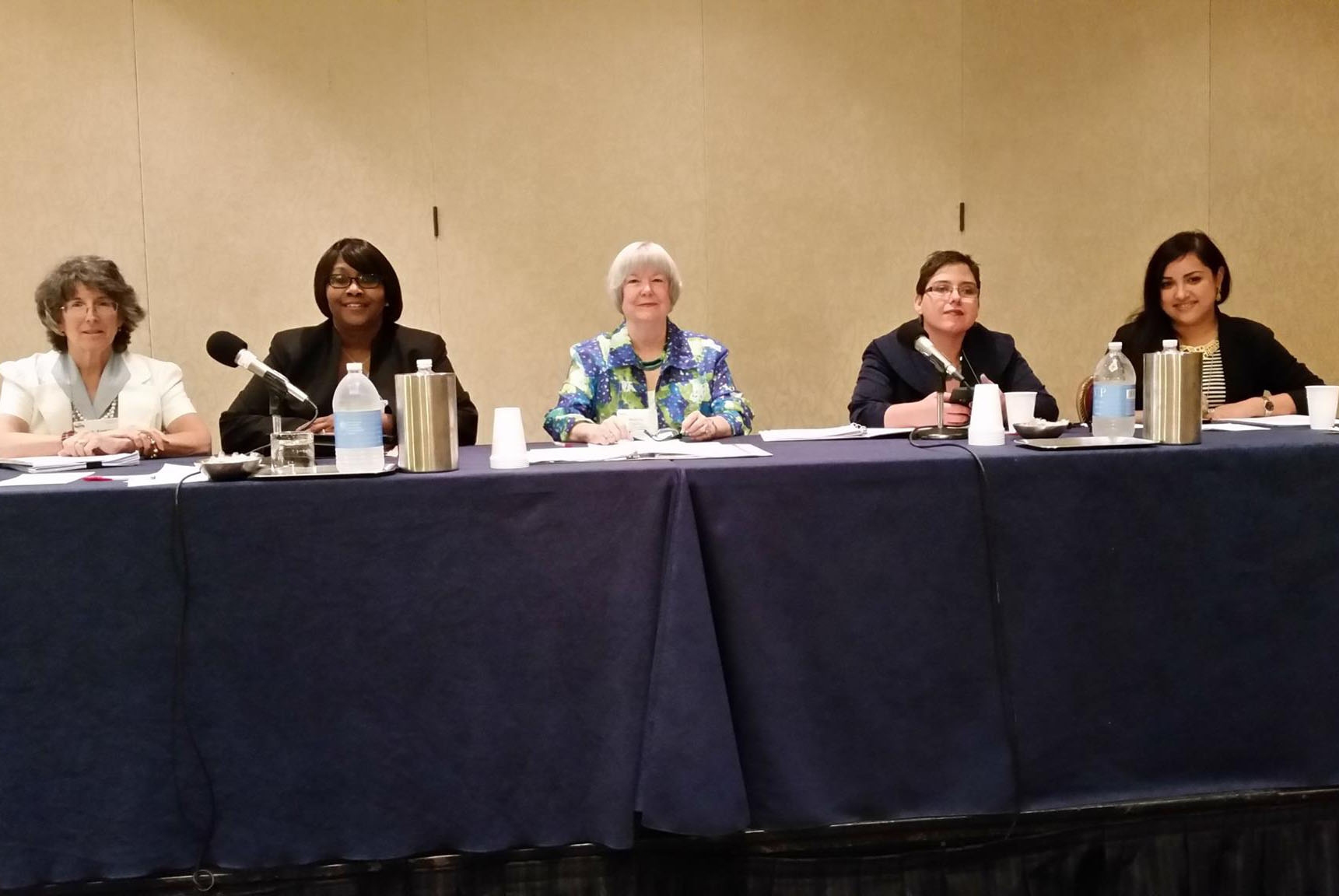 On May 28-30, Agency for Persons with Disabilities (APD) employees Melinda Coulter and Amelia Milton traveled to the Washington, D.C. area to participate in the 3rd World Congress on Adult Guardianship.  They joined Karen Campbell from the Office of Public Guardian, Inc. and Phoebe Ball from Disability Rights Florida, in presenting their 2013 research study on the Restoration of Rights in Florida.  In their presentation, Florida's need for restoration and process were compared to that of New Jersey. Linda Ershow-Levenberg, Esq., represented New Jersey's status. 
The World Congress was hosted by the National Guardianship Network (members include, among others, the National Guardianship Association, the ABA Commission on Law and Aging, the Alzheimer's Association, the National Academy for Elder Law Attorneys, the National College of Probate Judges and AARP).  This unique event held in Arlington, Virginia, brought together 120 speakers from 21 countries on six continents to discuss promising practices in the area of adult guardianship. This is the third World Congress on Guardianships; the first and second were held respectively in Japan and Australia.  Topics ranged from the civil rights of people with disabilities, person-centered planning, to supported decision-making.  Anyone who is involved with guardianship regularly faces challenges at some point. While many state and national organizations offer ways for guardianship professionals to share challenges and solutions, rarely do they have the opportunity to interact with peers from other countries. The World Congress shared problems from new perspectives and offered ideas and solutions from multiple viewpoints, cultures, and guardianship systems.
This three-day event featured 42 general and breakout sessions, including a keynote presentation from Kathy Greenlee, Administrator for Community Living and Assistant Secretary for Aging.
---
The Florida Center for Inclusive Communities (FCIC) Needs to Hear from You! Come join FCIC for a Community Conversation
Who is hosting?
The Florida Center for Inclusive Communities (FCIC) – a University Center for Excellence in Developmental Disabilities at the University of South Florida. Our purpose and passion is promoting the independence, productivity, and community inclusion of individuals with developmental disabilities.
What is a Community Conversation?
Community Conversation events bring together a small but diverse set of community members to brainstorm approaches and resources that can be used to address challenges facing the community. The goal of these discussions is to identify priority areas of focus for the FCIC over the next five years in the effort to support individuals with developmental disabilities and their families. Refreshments will be served and the meeting will take no more than two hours.
Who should attend?
Adults with developmental disabilities, family members of individuals with developmental disabilities, and providers who provide supports and services to individuals with disabilities.
Want an invitation to attend?
Contact Heather Williamson at Hwillia1@health.usf.edu or at 1-866-818-4797 for an invitation to participate.
Limited seating available for each meeting. Participants will be chosen at random from those who volunteer.
St. Johns County
Wednesday, July 30
6–8 p.m.
St. Augustine Public Library
1960 N. Ponce De Leon Blvd.
St. Augustine, FL 32804

Brevard County
Tuesday, August 5
5:30 – 7:30 p.m.
Suntree/Viera Public Library
902 Jordan Blass Drive
Melbourne, FL 32940

Hillsborough County
Wednesday August 13
5:30 – 7:30 p.m.
Children's Board of Hillsborough County
1002 East Palm Avenue
Tampa, FL 33605

Bay County
Wednesday, August 20
5–7 p.m.
Bay County Public Library
898 West 11th Street
Panama City, FL 32401
---
Champion Staff
Melanie Mowry Etters - Editor
Lindsey Boyington - Writer
Christine Call - Writer
Kimberly Tharpe - Masthead Design
John Milton - Webmaster

---
The Agency Supports Persons with Developmental Disabilities in Living, Learning, and Working in their Communities.