Prepare to Celebrate Jobs
By Barbara Palmer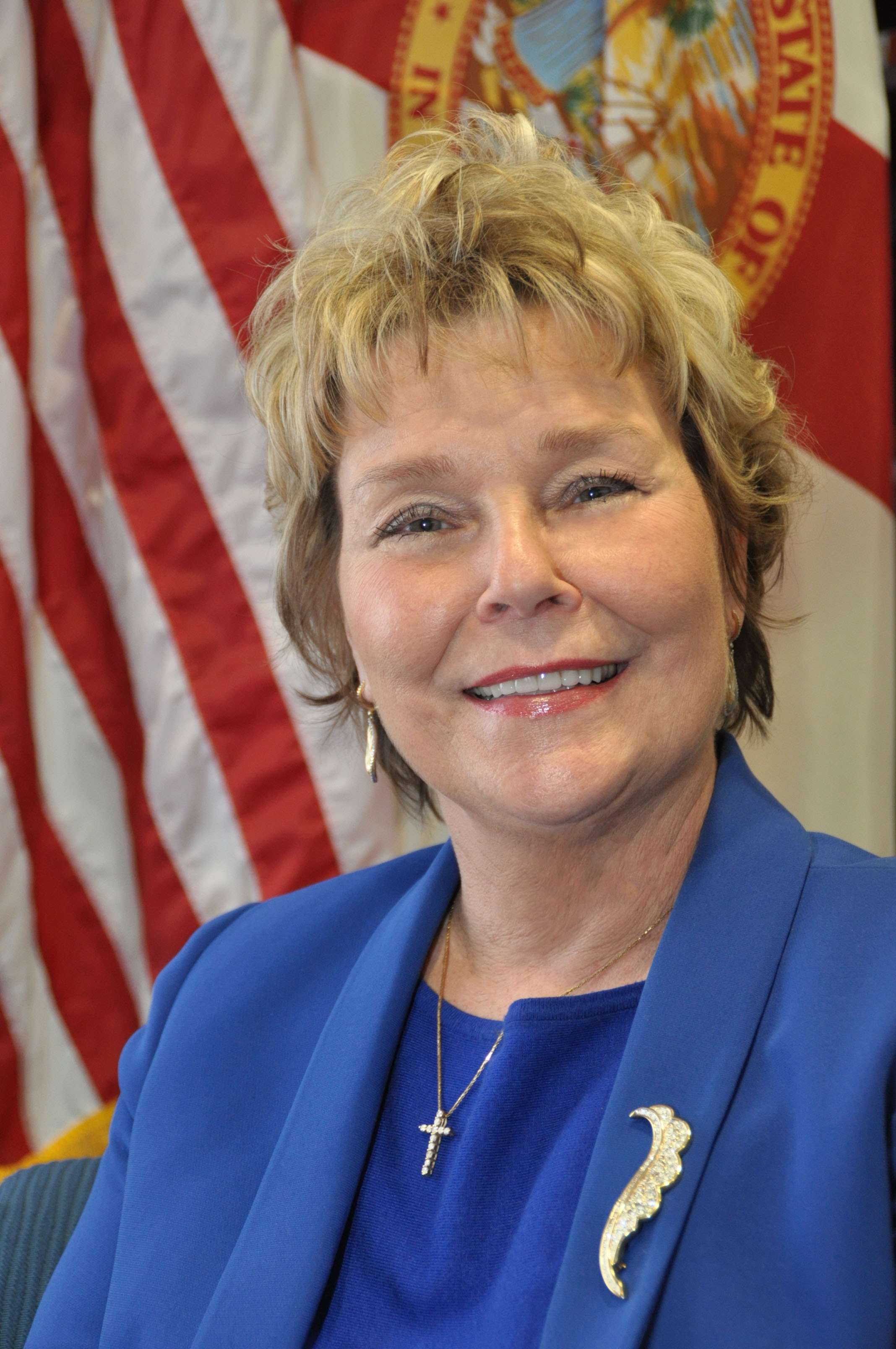 One of the Agency for Persons with Disabilities' (APD) top priorities is to help people with developmental disabilities find employment. The Agency for Persons with Disabilities and its partners are making preparations for Disability Employment Awareness Month beginning October 1. Florida's theme for Disability Employment Awareness Month is Abilities Work.
On September 23, Governor Scott and the Cabinet will consider a resolution declaring October as Disability Employment Awareness Month in Florida. Attorney General Pam Bondi is planning to introduce the resolution. Disability organizations representing the entire state will be on hand to accept the resolution. Additionally, a young man with a disability, Joseph Show, will speak to the Cabinet about the importance of work for individuals with disabilities. Show is working fulltime in the Information Technology division at the Florida Department of Health. The Cabinet meeting begins at 9 a.m. and is open to the public.
APD and its partners will be recognizing businesses from all over the state on October 1 with a celebration at Tallahassee City Hall. There will be informational displays, refreshments, and speakers talking about the importance of providing opportunities for people with disabilities to go to work. These exceptional employers will receive an award because their companies demonstrate an outstanding commitment to employing individuals with disabilities.  This free public event will be held at the Tallahassee City Commission Chambers, 300 South Adams Street, beginning at 8:30 a.m.
We hope you will join us for both events.
---
The Governor's Corner by Governor Rick Scott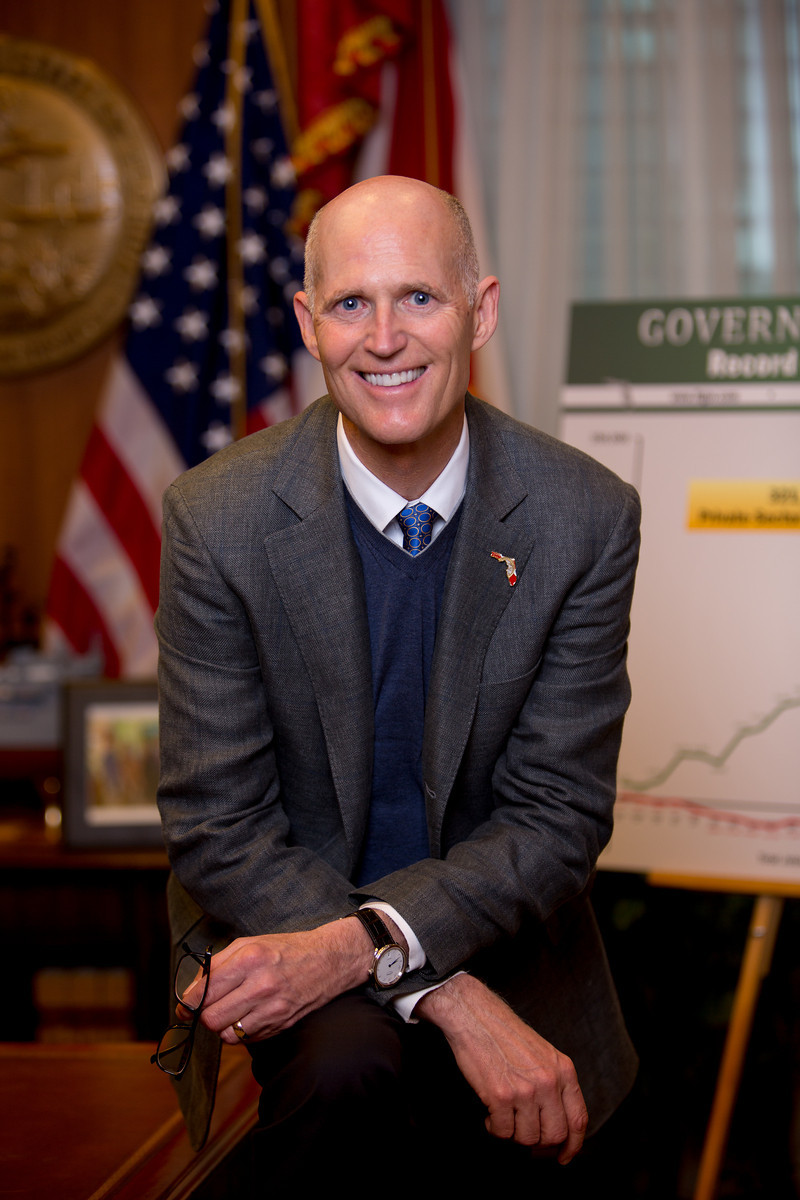 We recently announced that in the upcoming legislative session we will propose an increase in Florida's per-pupil spending to the highest level in our state's history. Thanks in part to the hard work of our public servants, we already have the highest total spending in K-12 this year and gave every teacher the opportunity for a pay raise. Our hard work is continuing to pay off-Florida's economy is back on track, and revenues are projected to stay at a strong enough rate to support these historic investments in education.
We know a great job begins with a great education. This increase in per pupil spending will provide our dedicated teachers and school districts with the support they need to ensure our students have the opportunities to succeed in classrooms and careers. With the help of our public servants, Florida's exciting economic growth is making these important investments possible. Let's keep working to create an opportunity economy for generations to come.
---
Waiting List Families and Rish Park
By JR Harding
Summers in Florida must include the beach! Thanks to the ongoing partnership with the Florida State University Police Department and the Independent Order of Odd Fellow Lodge Number 5, four more APD families on the waiting list enjoyed the sugar sands, warm Gulf waters, and a barrier-free environment at Rish Park. Families from Panama City, Jacksonville, High Springs and Tallahassee enjoyed a family-fun, long weekend at Rish Park courtesy of Chief Perry and his officers at FSU.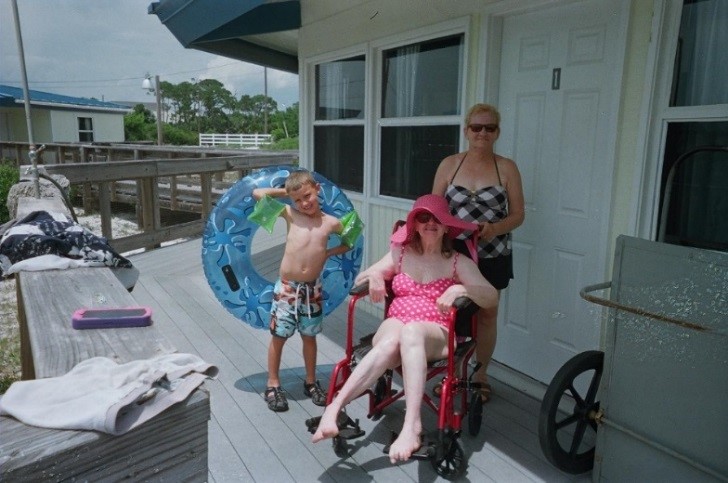 The Batton Family from High Springs: Brenda Batton celebrated her 69th birthday at the park this summer. She enjoyed the company of her family while collecting sea shells (a life-long love for her), swimming in the pool, and feeling the beach surf on her toes. Barbara, Batton's sister-in-law, said, "Brenda has not stopped talking about that trip. She tells everyone who visits all about her experiences. The waves get larger every time she tells her story."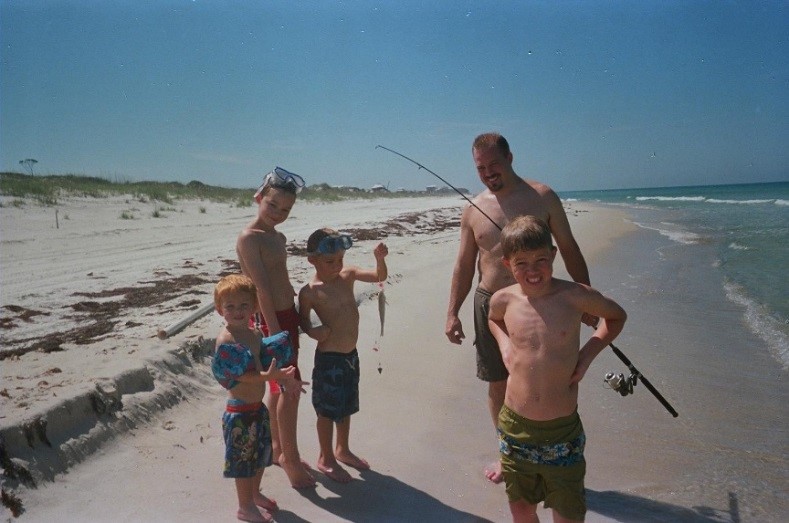 The Peck Family from Tallahassee: Nathaniel, Issac, Noah and Joseph had fun at Rish Park together fishing on the beach. They even caught a flounder! They went swimming in the Gulf of Mexico and the pool. Rachel Peck, their mother, said, "I wish we would have visited it earlier, especially during the really rough times. We had such a refreshing and relaxing time as a family. If you are a special needs family, I highly encourage you to visit William J. Rish Park. The park is AMAZING!"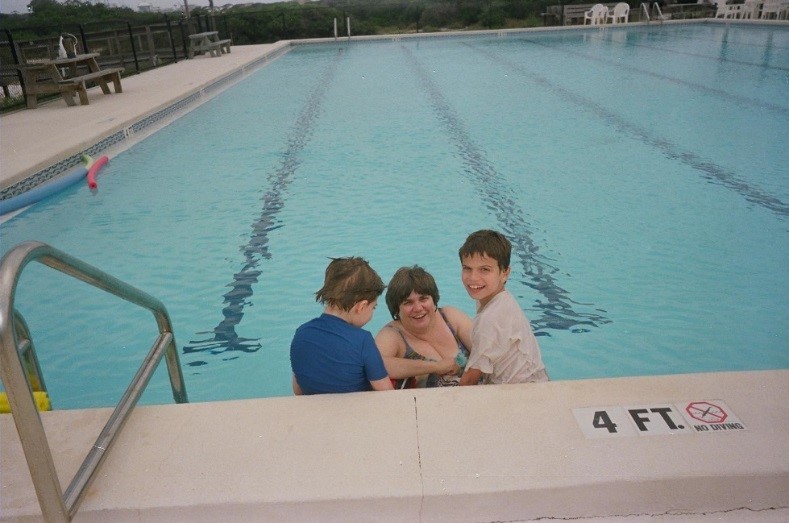 The Buck family from Panama City: Clayton and Jacob had such a wonderful time in the pool, on the beach and watching movies in their cabin. Tim Buck, Clayton and Jacob's dad, said, "It was extremely beautiful. We had previously visited the park but we never had the opportunity to stay in the family cabins. The cabins were immaculate and had everything that we needed. The boys really enjoyed themselves. The scenery on the Cape was absolutely breath-taking; not just during the day, but at night as well. Without any light from the city, the stars and night sky were beautiful. I would suggest this for anyone to go visit!"
The Wright family from Jacksonville will be attending the park in September.
With the summer coming to a close, APD and our community should be very excited about the future. Rish Park is currently undergoing improvements and repairs. Thanks to the leadership of Governor Scott and the Legislature, Rish Park received $2.4 million for renovations and enhancements. Next season, visitors can expect an accessible boardwalk that connects the park to St. Joe Bay. This boardwalk will include accessible fishing locations, a pavilion with restroom facilities, and a floating dock. It is also hoped that all of the cabins will receive facelifts and accessibility upgrades with this year's appropriations.
It is not too early to make your reservations for the fall of 2014, spring or summer 2015. The word is getting out about Rish Park, so book your family getaway sooner rather than later!
For more information, please visit rishpark.org.
---
Youth Leadership Forum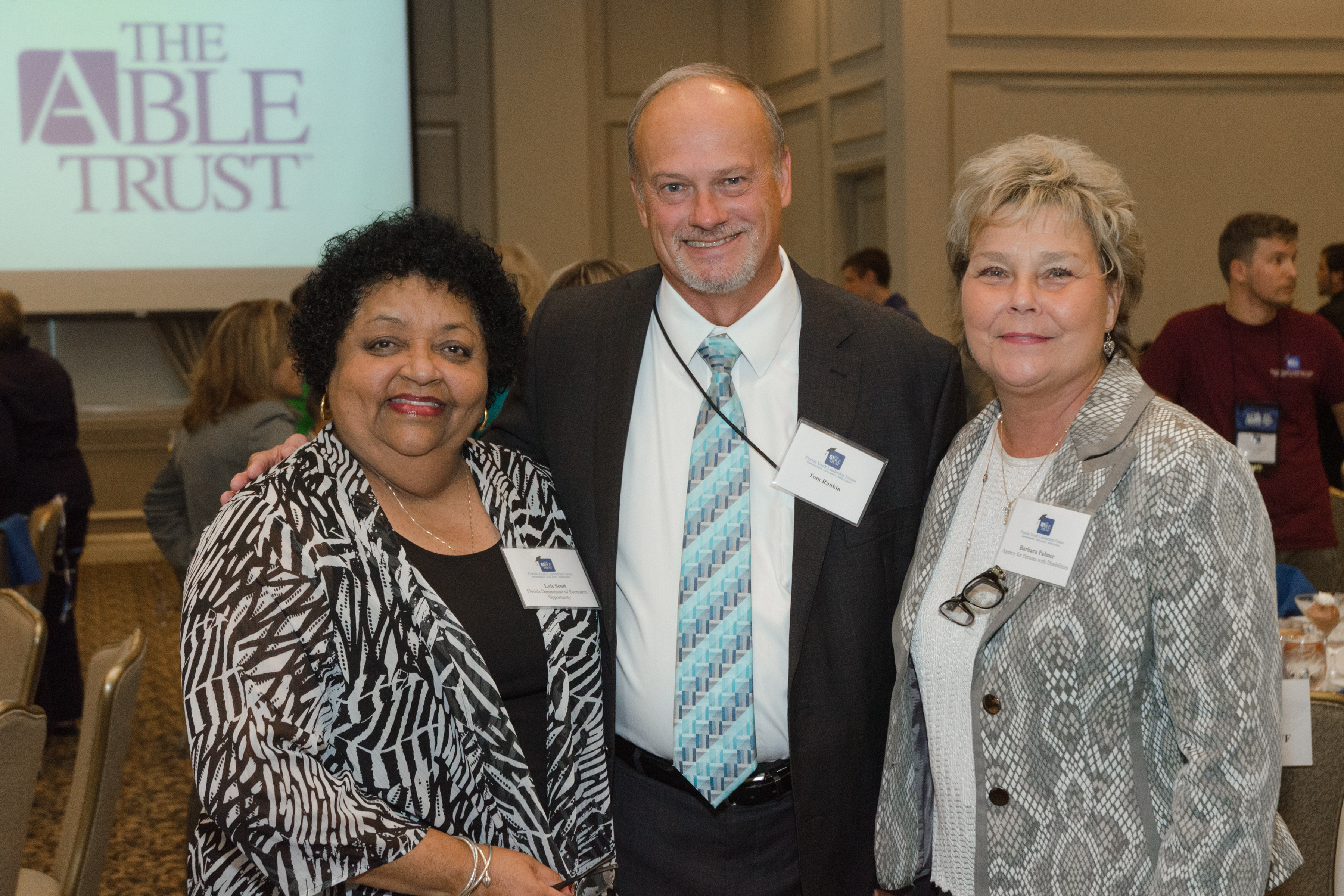 The Able Trust hosted its 15th Annual Florida Youth Leadership Forum (YLF) in July.  High school students with disabilities from around the state came to Tallahassee to develop their leadership skills.  The 50 young people selected to participate go through a competitive selection process to participate in YLF.  On July 18, the Able Trust hosted a Mentors event. Agency for Persons with Disabilities (APD) Director Barbara Palmer, Deputy Director of Operations Tom Rankin, and Communications Director Melanie Mowry Etters attended. Following the Mentors event, a Resource Forum was held with 20 agencies sharing information with the students, including APD. The YLF participants visited the various tables to learn about the statewide resources that are available for people with disabilities. APD's Rish Park was a favorite for attendees.
---
Persistence Pays Off
By Jose Pinto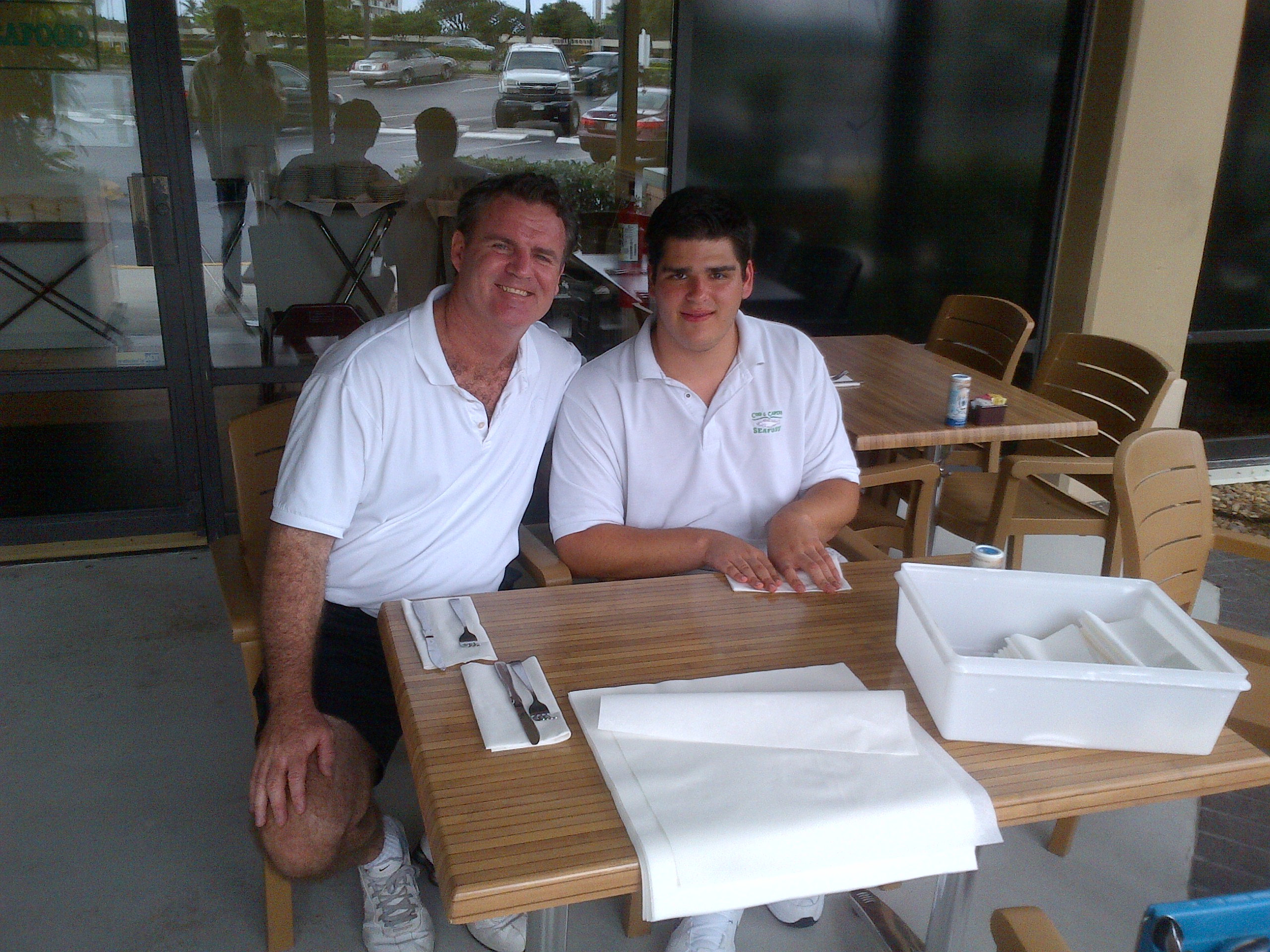 Shaun Deason had been interested in working for as long as his mother could remember. The Deason family would frequent a restaurant close to their home and while enjoying meals Shaun would talk with the restaurant manager about applying for a job when he turned 18. When Deason turned 18, the first thing he told his mother was, let's go to the restaurant and apply for my job. He did apply and the manager was polite but said there was no job available. Over the months when Deason would go to the restaurant, the manager was always nice but there was no position there for him. Deason was disappointed, but he would not take no for an answer because he wanted to work.
Deason decided to expand his job search, and being both a Floridian and Peruvian, his love for the ocean and seafood came naturally. He started looking at local eateries near the waterfront. His mother joined forces with Deason's therapist, Dr. Tom Sharpe, to look for restaurants that would consider hiring him. During their search, Sharpe approached Cod and Capers Seafood Market and Café in North Palm Beach that specializes in fresh seafood. They were pleasantly surprised with the open and receptive response of Cod and Capers Seafood managers, and their commitment to helping support individuals like Deason.
Cod and Capers Manager Mark Bendeck said, "Shaun is a great worker. We are glad to support young adults with disabilities in becoming more independent and involved in the larger community." His manager is glad he took a chance and is looking forward to working with Deason for as long as he wants to be employed at Cod and Capers.
Deason works two days a week. APD provides an assistant that supervises Deason's ongoing work activities. Both Sharpe and the assistant, Tim Foley, provide Deason with ongoing instruction on how to work more effectively with customers and co-workers, and expanding his job skill repertoire. He is currently enthusiastically learning a range of general job site skills and specific job tasks. With each week his independence grows and is being demonstrated by learning how to operate a computer-based time clock, depositing his wages in a local bank account, and a variety of professional social skills necessary for successful ongoing employment. Deason loves working and enjoys interacting with his fellow employees.
Deason said, "I feel proud that I know people are using the napkins that I fold, it makes me feel good and important.  I want to get better and work at other places, too." Deason's persistence and hard work helped him achieve his goal of being successfully employed.
---
Around the State
---
Manners that Matter
School is back in session, and that means programs like Elder Care's Foster Grandparents program are also returning. This group of 44 men and women spend their time volunteering at Leon County schools to mentor students with special needs who need a little extra help. In preparation of the new school year, Elder Care Services Senior Volunteer Programs Coordinator Pamela Cooper contacted Lindsey Boyington at the Agency for Persons with Disabilities (APD) to speak during their August 20 meeting at the Walker Ford Recreation Center in Tallahassee.
Boyington prepared a 20 minute presentation which covered a variety of disability related topics. The main topic was disability etiquette, which Cooper specifically requested after seeing the agency's Manners that Matter brochure. Other topics included, general information about APD, service dogs, assistive technology such as communication boards, and disability resources.
This presentation was just one part of their pre-service orientation and training. If you are 55 or older and are interested in becoming a volunteer, please contact Elder Care Services at (850) 921-5554 or visit them online at http://www.ecsbigbend.org/ and click on senior volunteer opportunities.
---
FAAST Finds
By Lindsey Boyington
On July 31, the Florida Alliance for Assistive Services and Technology (FAAST) held an open house at their Tallahassee location. The main focus of the event was magnification equipment for people with low vision. Their impressive showroom showcased many magnifiers, all the way from hand held devices to large screens that even read the document out loud.
The best thing to know about FAAST is that they have a huge supply of assistive technology. This includes toys, keyboards, iPods, computers, communication boards, and much, much more. If you are in need of an assistive device this should be the first place you contact. Not only do they loan their equipment out to people in need, but they offer lower cost methods of purchasing the equipment, too.
If you have a need for an assistive device, contact FAAST toll-free at (888) 788-9216 and find out more about what they can do for you.
---
Job Coaches Trained and Ready in the Northwest Region
By Annette Zeeb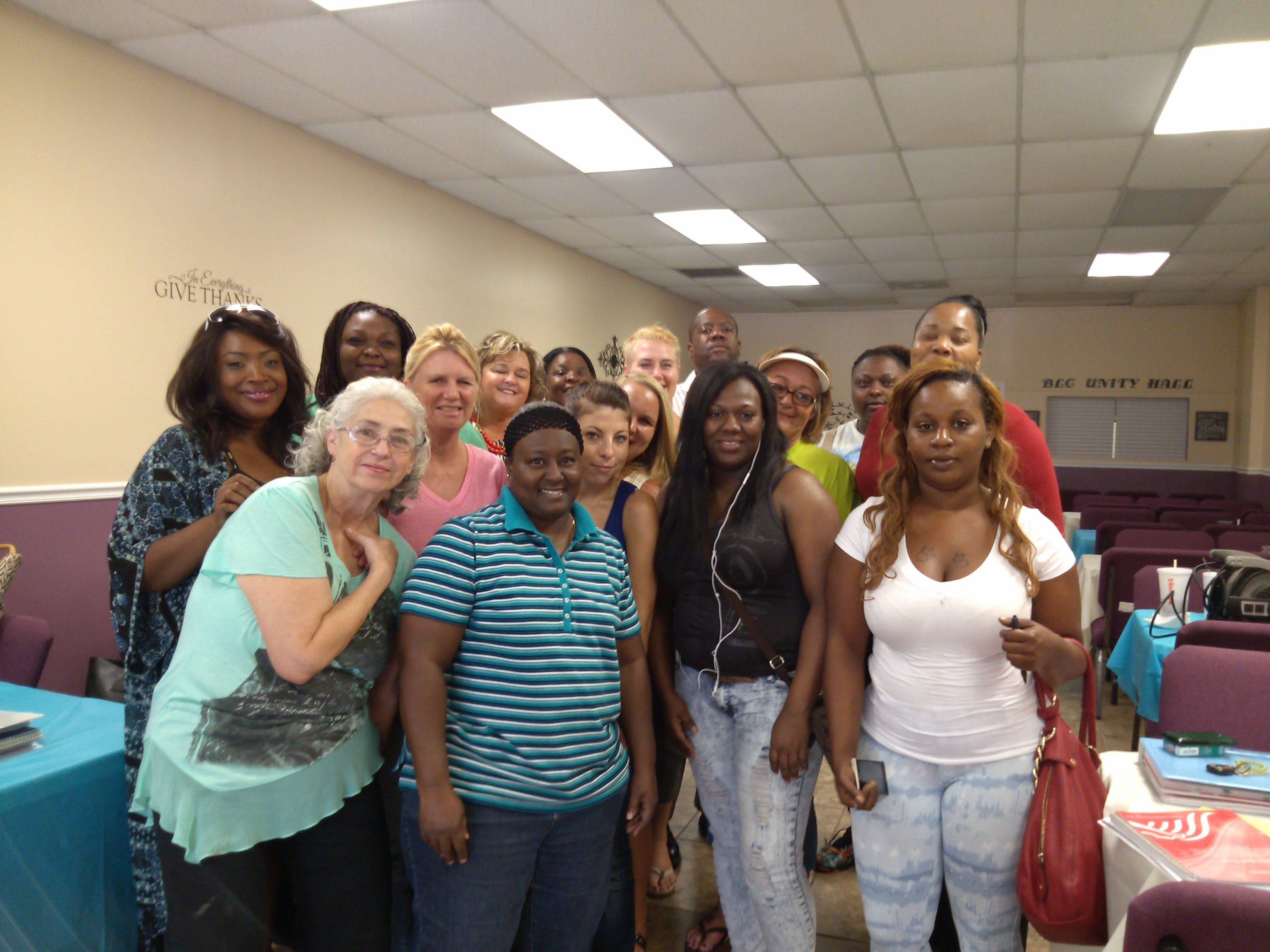 Katrina Washington, Northwest Region Employment Liaison, offered the Supported Employment pre-service orientation class on August 7, 8, 21, and 22 at the Believer's Life Center in Pensacola.  Most of the participants were either former school employees with exceptional education programs and/or current Agency for Persons with Disabilities (APD) providers of other services.
The participants were tasked with doing actual job development with businesses in the area.  They came back excited with new business connections developed and shared that three employers were hiring.  Three waiver support coordinators from the Children's Home Society participated in the Social Security Work Incentives portion of the course.
Fourteen participants are now certified to provide supported employment services.   One provider has also applied to become a vocational rehabilitation vendor for supported employment services.  The Introduction to Social Security Work Incentives is scheduled for September 3 and 4 while the Best Practices in Supported Employment is scheduled for September 10 and 11 at the Southwood State Office Complex in Tallahassee.  Students must register for the courses on the APD Training Calendar Web page at http://ptc.apd.myflorida.com/AvailableTraining.aspx?TrainingType=2
---
Gallery of Dreams
By Kirk Ryon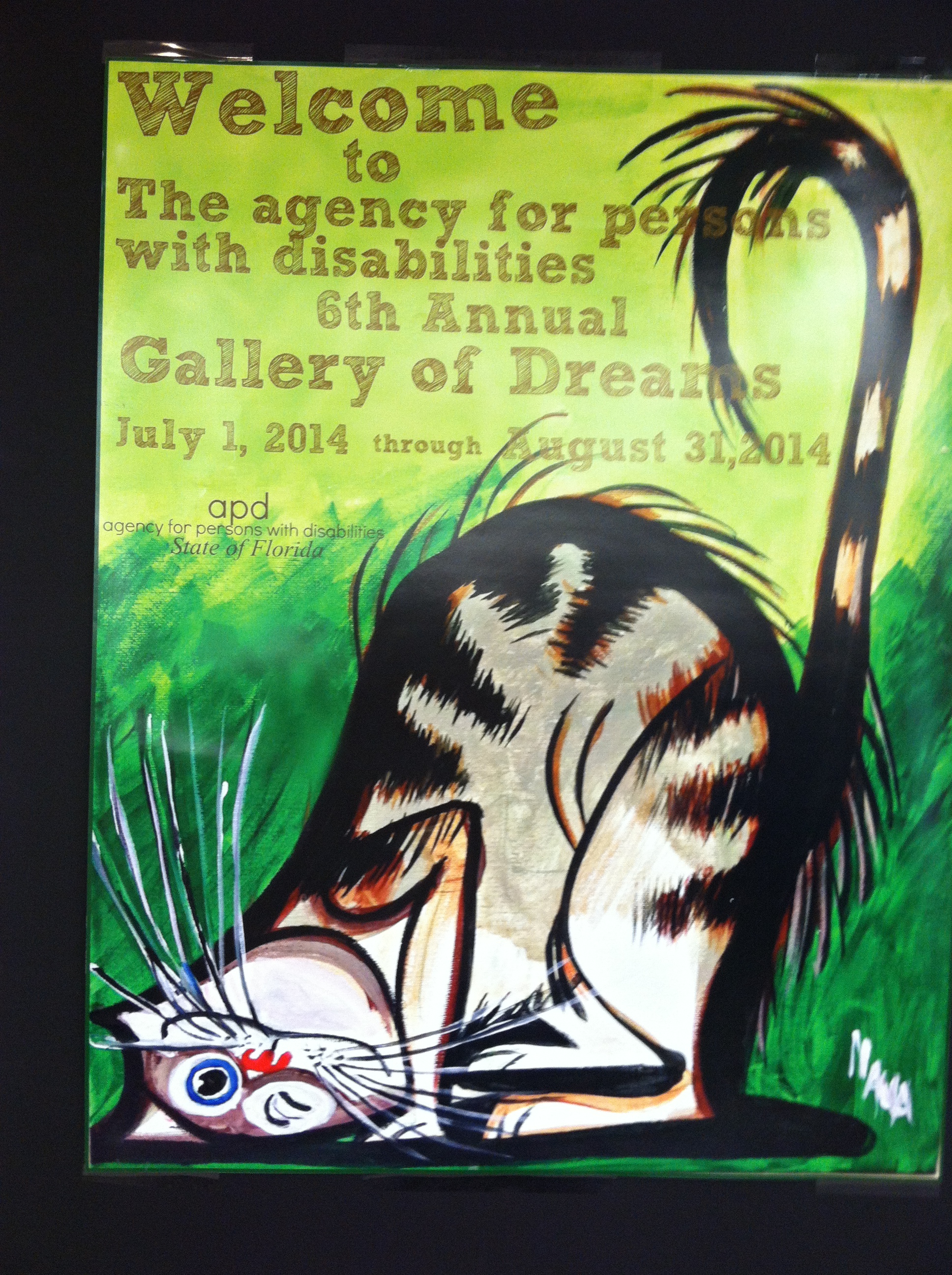 During the months of July and August, the 6th Annual Gallery of Dreams was on display at the state of Florida's Rhode Building in Miami. This exhibition features works by many talented artists who are customers of the Agency for Persons with Disabilities (APD). Also called "Outsider Art," the works in the Gallery of Dreams demonstrate the talents of individuals who are largely self-trained and work outside of the mainstream artistic community. Most live in a group home or attend an adult day training program. Some of the artists have featured art works in the gallery during each of the six years that the exhibition has run. For these artists, the opportunity to exhibit their works in a public forum is truly a dream come true.
---
Surf's Up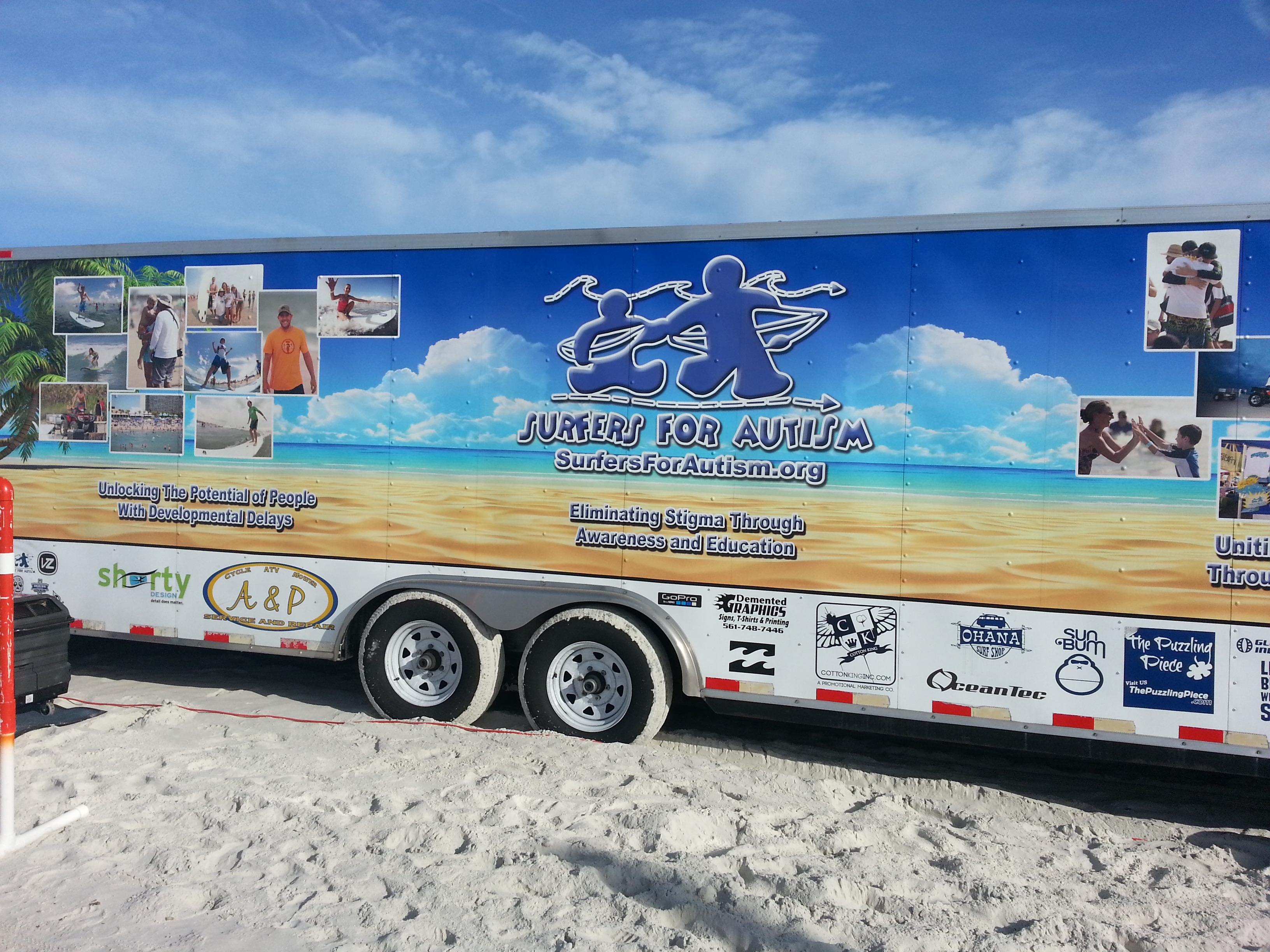 Rebecca Scales, Senior Human Services Program Specialist, and Leslie Richards, Northeast Regional Operations Manager, volunteered with the 5th Annual Surfers for Autism on August 2. They manned the booth for the Ponce Inlet Fire Department where individuals could come and obtain paint in order to paint the fire truck and police car. They also assisted with painting surf board necklaces that participants could take home. The Northeast Regional Office has volunteered for this event for the past three years and what an enjoyable day for everyone.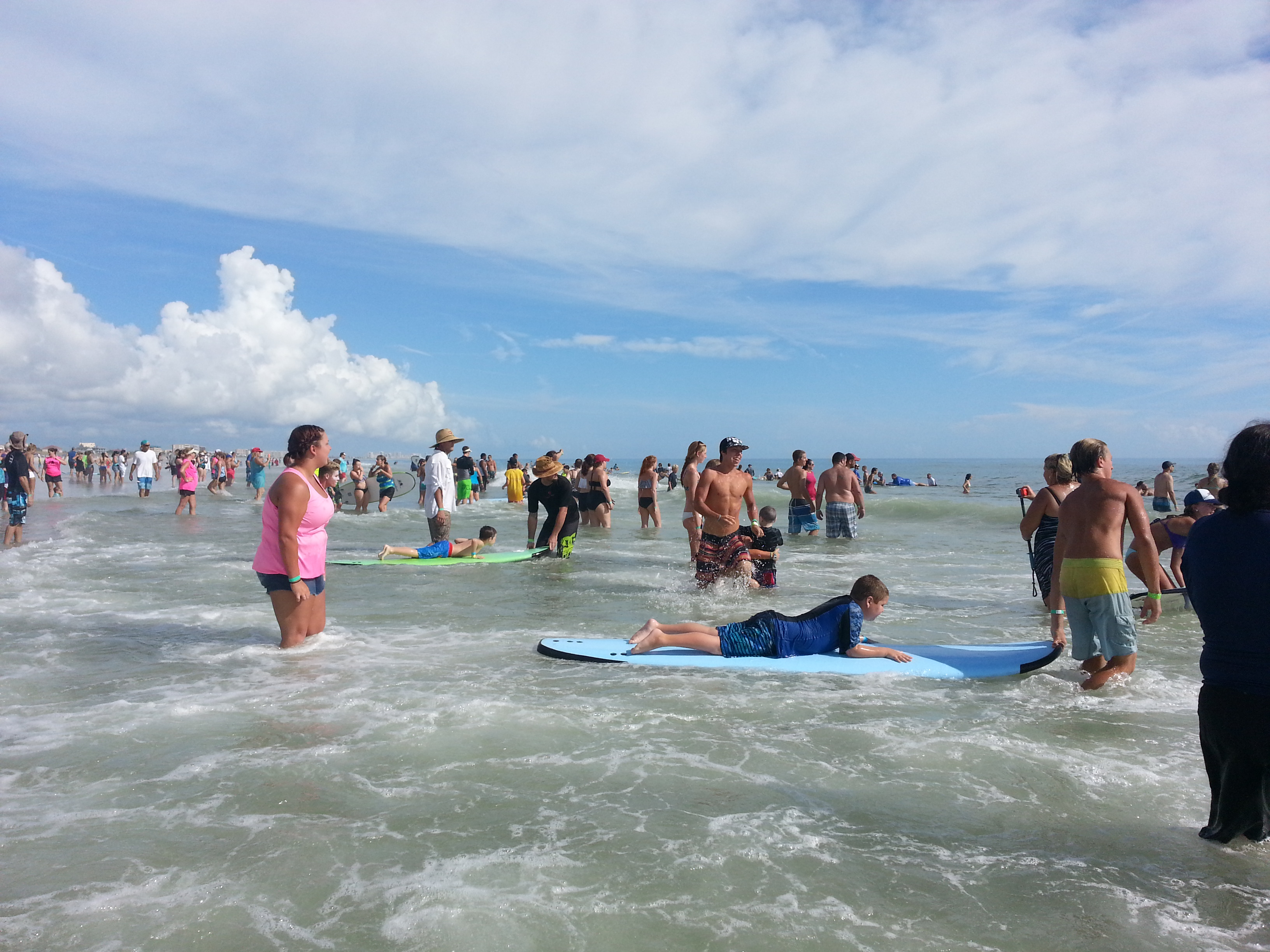 ---
Champion Staff
Melanie Mowry Etters - Editor
Lindsey Boyington - Writer
Christine Call - Writer
Kimberly Tharpe - Masthead Design
John Milton - Webmaster

---
The Agency Supports Persons with Developmental Disabilities in Living, Learning, and Working in their Communities.