CONTACT: Melanie Mowry Etters
Communication Director
850-414-7551
Maintaining a Healthy Lifestyle
By Tim Brown
TALLAHASSEE, Fla. – Abigail Jackson has an important job these days when everyone is doing what they can do stay safe and well. She assists with cleaning the gym equipment at Premier Health and Fitness Center. Jackson's supervisor reports that it is a delight to work with her and they love having her as a Premier employee. She is known to clean equipment extremely thoroughly, and she enjoys talking with co-workers and customers.
Job Coach Abby Hallett says she has never met a person prouder of the work that she does. "Whether it's volunteering at her local food bank, wiping down equipment at the gym, or folding pizza boxes at a restaurant, she puts her all into everything that she does."
Since the COVID-19 pandemic reduced her hours to one day a week at the fitness center, Jackson recently accepted a second job at Red Elephant Pizza and Grill.
"I enjoy working. Both of my jobs are at awesome places. I now have two good jobs," Jackson said.
In her spare time, Jackson likes to go out to eat with family and friends, cook, volunteer weekly at Second Harvest, and participates in Special Olympics. She enjoys caring for her new kitten, Hank. She also helps her mom at The Florida Bar.
APD supports people with developmental disabilities to live, learn and work in their communities. The agency annually serves more than 55,000 Floridians with autism, cerebral palsy, spina bifida, intellectual disabilities, Down syndrome, Phelan-McDermid syndrome, and Prader-Willi syndrome. For more information about the Agency for Persons with Disabilities, visit APDcares.org or call toll free 1-866-APD-CARES (1-866-273-2273).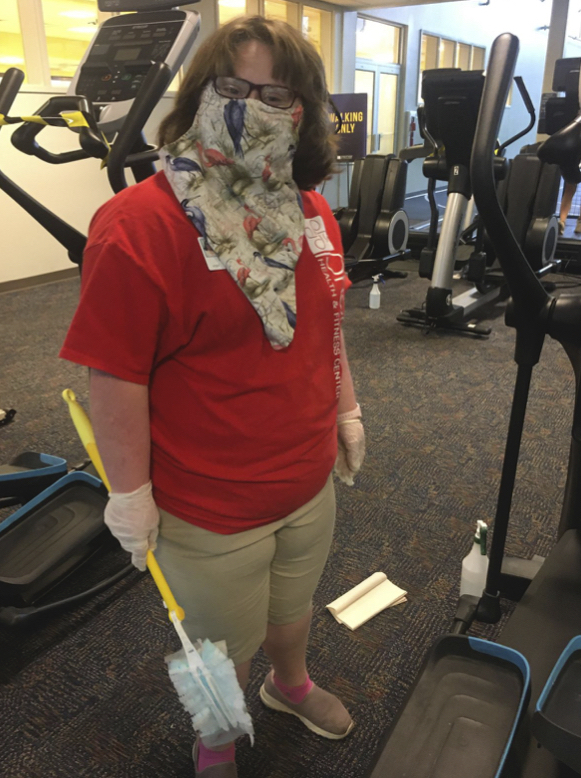 Abigail Jackson cleans the equipment at Premier Health and Fitness Center, Tallahassee, Florida.