CONTACT: Melanie Mowry Etters
Communication Director
850-414-7551
The Future is Bright for Andre
By Janeil Jackson
If you saw Andre St. Hilaire's infectious smile it would be hard to believe all he has overcome.
St. Hilaire, 25, was born with a developmental disability. He lost both of his parents in a car accident and sustained a head injury. He now lives in a Miami group home and works at Publix as a Front Service Clerk.
October is National Disability Employment Awareness Month, and APD is highlighting the workplace achievements of people with disabilities and the employers that hire them.
St. Hilaire likes to have his own money to be independent and buy his own things, so getting a job was a priority.
"Andre likes to have his own money to go out to the movies and different places with his girlfriend," said Talia Leon, owner of A Loving Care Group Home, Inc. "He's into the Jordan and Nike shoes and he always looks nice and has on nice smelling colognes."
It was difficult landing a job due to COVID-19, but St. Hilaire maneuvered through that obstacle with his usual positive outlook. Once businesses started to open back up, he was able to land a job at Publix with the help of Goodwill South Florida.
St. Hilaire works part-time, bagging and helping customers load groceries into their car, filling Instacart orders, cleaning windows, and gathering carts in the parking lot.
There are many aspects of the job that St. Hilaire enjoys but getting to meet and interact with the customer is this favorite.
"I really like my job at Publix," said St. Hilaire. "I bag groceries, do Instacart, and wash windows. But I really like talking to different people every day."
He has become a valued member of the Publix team and is respected and admired by his peers. Assistant Store Manager Lisa Robinson considers him to be an asset to the team.
"I get a lot of customer compliments on Andre," said Robinson. "The customers like the way he takes care of their needs. He has a great personality and is very friendly to everyone."
St. Hilaire even has management aspirations at Publix. "I like my job a lot. Hopefully I can be a manager at Publix one day," said St. Hilaire.
When not at work, St. Hilaire likes watching TV, playing video games, playing with the group home dog, King, and spending time with his girlfriend. He used to play basketball, baseball, and run track and field for the Special Olympics, but had to retire due to a biking accident. He is also working to obtain his driver's license as another step towards gaining independence.
APD supports people with developmental disabilities to live, learn and work in their communities. The agency annually serves more than 58,000 Floridians with autism, cerebral palsy, spina bifida, intellectual disabilities, Down syndrome, Phelan-McDermid syndrome, and Prader-Willi syndrome. For more information about the Agency for Persons with Disabilities, visit APDcares.org or call toll free 1-866-APD-CARES (1-866-273-2273).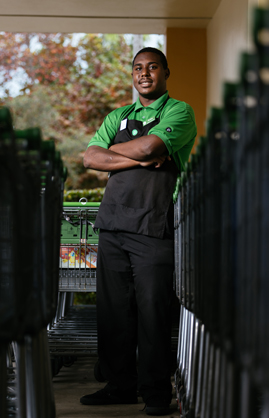 Andre St. Hilaire ready for work at Publix in Miami.