CONTACT: Melanie Mowry Etters
Communication Director
850-414-7551
Finding Joy After Loss
By Crystal Crowell
Everyone wants to feel special and to feel included in the workplace. Those fortunate enough to work with Miami resident Jaime Schear say she is the epitome of positivity and warmth.
"Jaime takes time each day to make sure she acknowledges all of her co-workers," said Schear's supervisor Juliette Del Campo. "She really wants everyone to feel seen."
Schear has been an employee with Columbus Capital, a mortgage lender in Miami, for more than six years. She currently works approximately 12 hours per week as a human resources assistant and enjoys every moment. Her tasks vary from filing to shredding to sometimes answering the phones.
"I have been with Jaime for almost seven years, and I have watched her confidence grow," said Schear's job coach, Yeni Pena. "She continues to learn new tasks and enjoys having a job."
Pena said Schear has recently been tasked with an important role at work. "Jaime has started to scan documents and attach them to customer files. Sometimes she doubts herself, but I can see her confidence growing and I am watching her become more and more comfortable with this new task."
Schear has a developmental disability and receives services from the Agency for Persons with Disabilities (APD). October is National Disability Employment Awareness Month, and APD is highlighting the workplace achievements of people with disabilities.
"I love working," said Schear. "When I finished school, I didn't want to stay home all day. I like to be social and get to know people. I also like dressing nice and getting to work in an office."
"My co-workers and Juliette are so nice. They are my friends," said Schear. "If I have questions at work, I can ask Yeni or Juliette or any of my co-workers. I feel happy when I am at work."
Schear lost her mother a few years ago and moved to Castaneda Group Home. Co-Founder Iliana Castaneda said everyone that meets Schear loves her.
"Jaime is so social and friendly. Everywhere we go she sees someone she knows," said Castaneda. "Jaime has a great heart and teaches me so much."
"I love spending time with Iliana. It feels like a party. We are always busy doing something," Schear said.
In her spare time, Schear enjoys shopping, salsa dancing, Zumba, working out, watching Netflix, and spending time with her friends. She is also a Special Olympics athlete, competing in bocce, bowling, and flag football. Schear has won two second-place trophies with Special Olympics, one for bocce and the other for bowling.
"Jaime has persevered through so much and has remained positive," said Pena. "She is the kind of person that radiates positive vibes. She always has a happy attitude, regardless of what she is going through."
APD supports people with developmental disabilities to live, learn, and work in their communities. The agency annually serves more than 58,000 Floridians with severe forms of autism, cerebral palsy, spina bifida, intellectual disabilities, Down syndrome, Phelan-McDermid syndrome, and Prader-Willi syndrome. For more information about the Agency for Persons with Disabilities, visit APDcares.org or call toll free 1-866-APD-CARES (1-866-273-2273).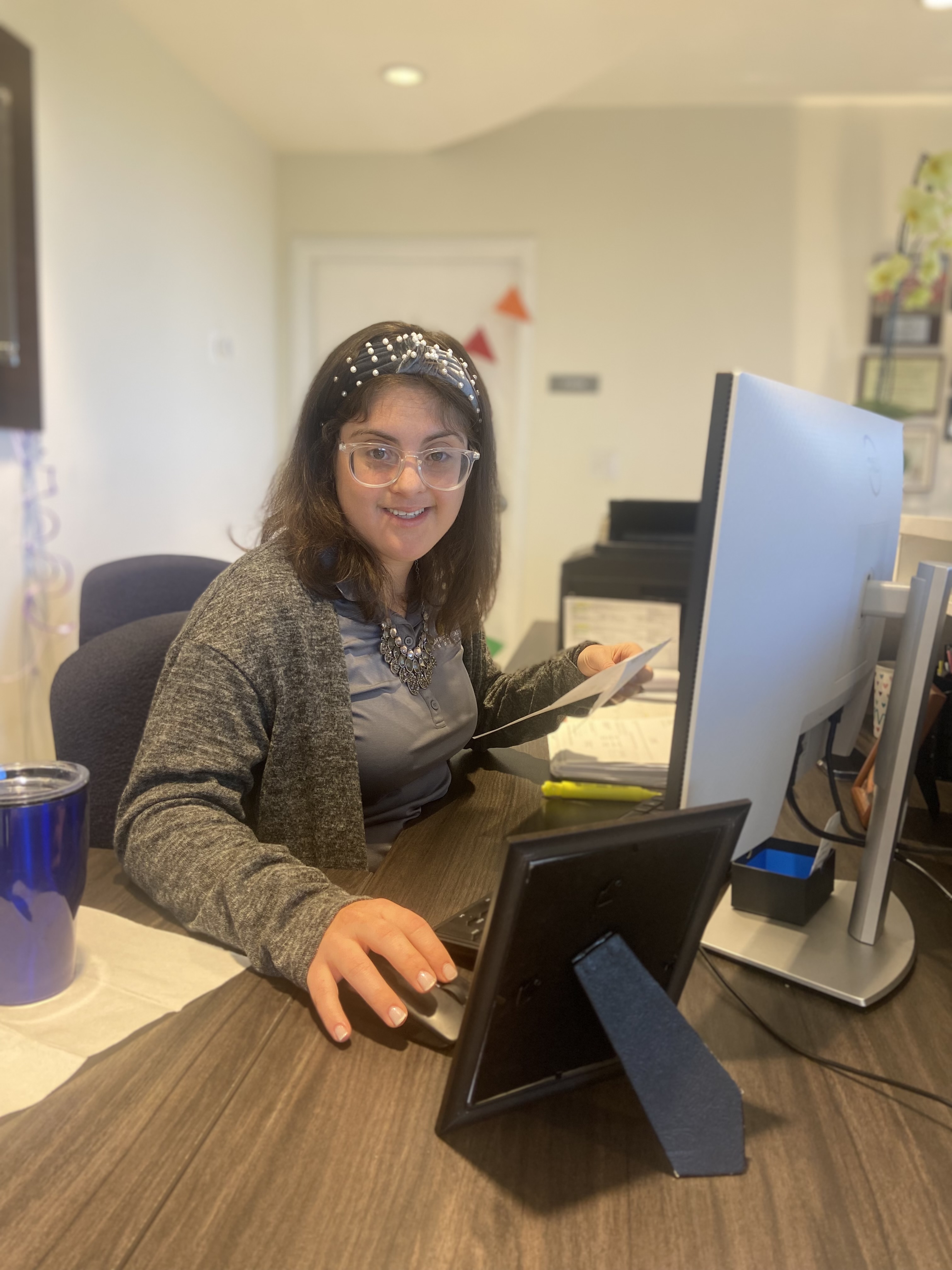 Jaime Schear at her desk at Columbus Capital in Miami.