CONTACT: Melanie Mowry Etters
Communication Director
850-414-7551
A Life of Learning
By Kimberly Tharpe
For 22 years, Emelia Simmon has been employed with Miami Dade College. During this time, she has pushed herself to learn as much as she can, gaining skills, knowledge, and degrees along the way. For Simmon, there is no end in sight.
"I like to learn," Simmon said. "I want to keep going and learn as much as I can."
Simmon has a developmental disability and receives services from the Agency for Persons with Disabilities (APD). October is National Disability Employment Awareness Month, and APD is highlighting the workplace achievements of people with disabilities and the employers that hire them.
Simmon currently works part-time as a paraprofessional support assistant at Miami Dade College. She is responsible for many tasks at the college. One of those is to provide instructional coaching to students with special needs to further their careers and academic progress. She also helps students understand content and concepts of reading and writing.
"Emelia is an extremely hard worker and is always willing to put in the extra work to get the job done right," Job Coach Ricardo Sotolongo said. "She is reliable and always on time."
"I like to work and stay active," Simmon said. "I like the independence that I get to have by making my own money. I like being part of the office team."
In 2019, Simmon received a Bachelor of Arts in Supervision and Management from Miami Dade College. She also received training in seizure recognition and attained her first aid certification with The Epilepsy Foundation.
"Emelia continues to want to learn," Waiver Support Coordinator Isis Espino said. "She is always looking to better herself."
"Amelia greets everyone with a huge smile and kindness," said Sotolongo. "She always has a positive attitude, and nothing gets her down."
In her spare time, Simmon enjoys attending church and watching movies. She loves shopping and going to the beach. Her goal is to learn more and gain additional skills to help her move up in her career.
APD supports people with developmental disabilities to live, learn and work in their communities. The agency annually serves more than 58,000 Floridians with autism, cerebral palsy, spina bifida, intellectual disabilities, Down syndrome, Phelan-McDermid syndrome, and Prader-Willi syndrome. For more information about the Agency for Persons with Disabilities, visit APDcares.org or call toll free 1-866-APD-CARES (1-866-273-2273).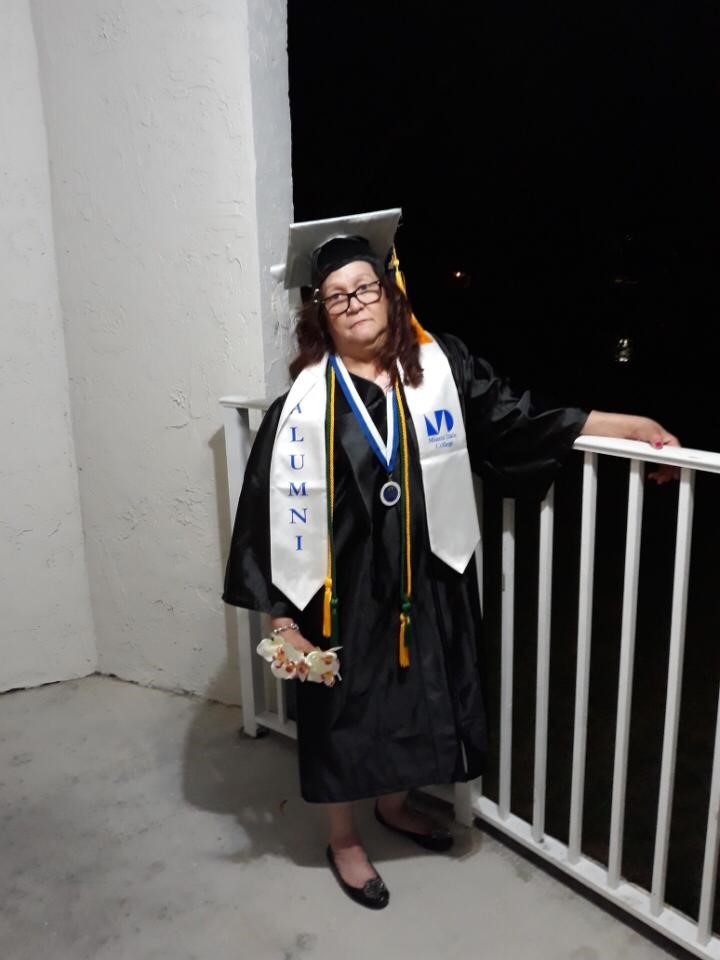 Emelia Simmon at Miami Dade College.