CONTACT: Melanie Mowry Etters
Communication Director
850-414-7551
One Year Makes a Difference
By Crystal Crowell
One year was the length of time of Anthony "Scotty" Crawhorn's high-school internship with the Volusia Sheriff's Office in DeLand, Florida. And one year is all it took for the Sheriff's Office to know they wanted Crawhorn to stay.
"Scotty is such a big part of the department," said Volusia Sheriff's Office Administrative Assistant Melissa Nutall.
Now, over 20 years later, Crawhorn still loves his job.
"If I could work every day, I would," said Crawhorn. "I love the work environment and I like to help people."
Crawhorn is responsible for greeting patrons when they arrive and directing them to their destination.
"I have been with Scotty almost the entire time he has been here. He is like a son to me" said Nutall. "He knows more about the courthouse than most people."
"Scotty has been a huge asset to the Sheriff's Office ever since he joined," said Sheriff Mike Chitwood. "He's one of the most loved employees we have."
Crawhorn is also an advocate and hopes to inspire others.
"I want to help other people who look like me," said Crawhorn. "I want people to know they can do anything."
"I saw an older lady walk into a bathroom one time and there was not a push button for her to use. I spoke to someone at the courthouse and there are now buttons at all the bathrooms on the first floor," said Crawhorn.
"Scotty doesn't let anything stop him," said Nutall. "He has been integral in updating the building and ensuring accessibility for all. Scotty has opened my eyes to what it's like to have a disability."
"We consistently hear compliments from people who appreciate his helpful attitude and positive attitude," said Sheriff Chitwood. "That's just who Scotty is; he's a friend to everyone and a true public servant to his community."
When asked what his future may look like, Crawhorn was quick to answer, "I want to own a home and have a family." He added, "And I want to meet Mariska Hargitay from Law and Order: SVU. That would be so cool."
In his free time Crawhorn enjoys helping his community, going to the mall, playing video games online with his friends, and watching Disney movies. He said, "The Little Mermaid sings that she wants to be part of that world. And that is what I want for everyone, to be part of this world."
In recognition of Crawhorn's 20 plus years of service with the Sheriff's Office, he was surprised with an award from Sheriff Chitwood and his friends at the Sheriff's Office. The community rallied around him to congratulate him on such a monumental milestone. To watch Crawhorn's 20-year service award presentation, please visit https://www.facebook.com/watch/?v=1499533043860990.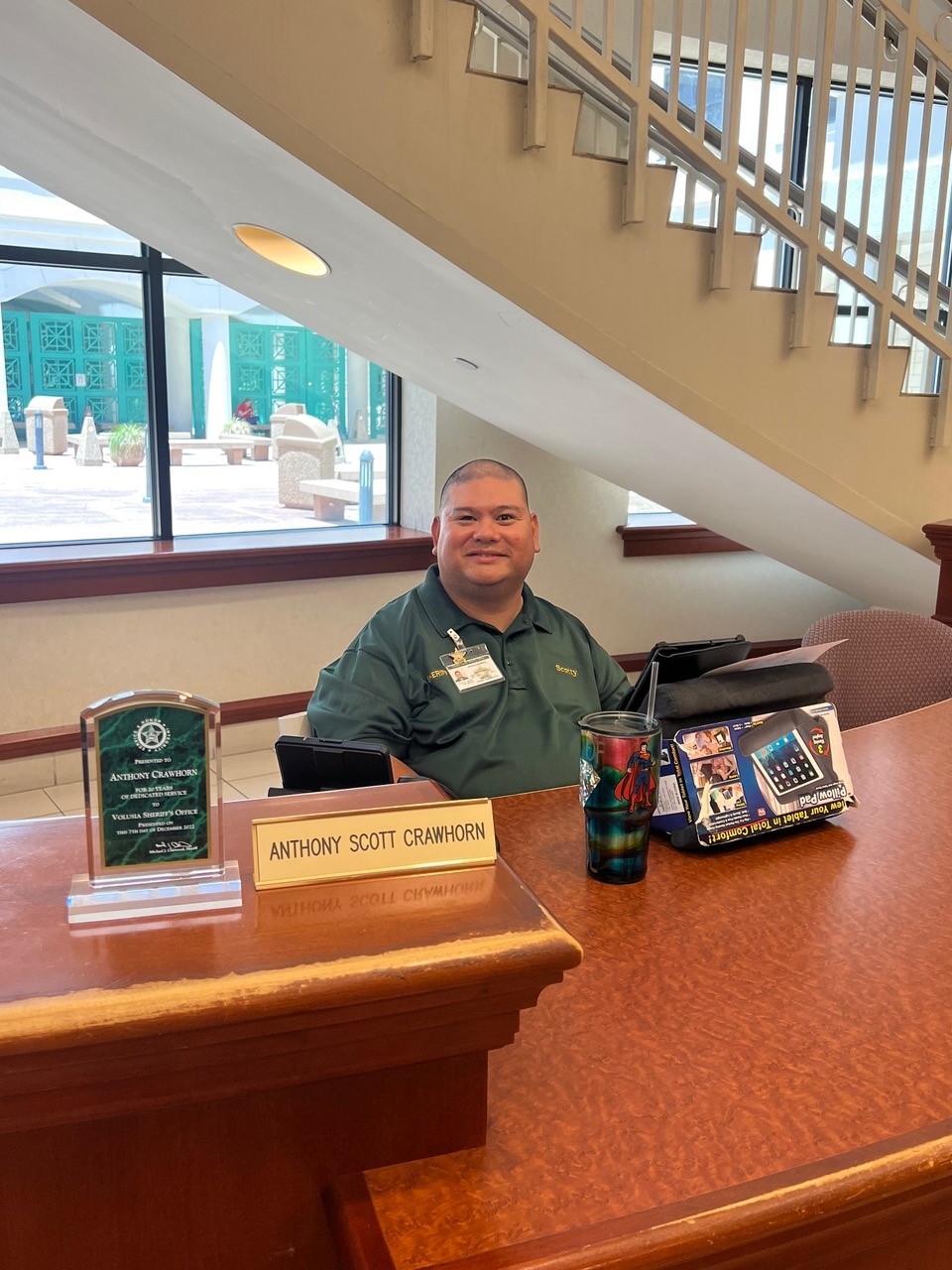 Scotty Crawhorn