CDC+ > Consumer-Directed Care Plus (CDC+)
---
CDC+ is a long-term care program alternative to the Medicaid Home and Community-Based Services (HCBS) Medicaid Waiver. The program provides the opportunity for individuals to improve the quality of their lives by being empowered to make choices about the supports and services that will meet their long-term care needs and to help them reach their goals.
---
Enrolling onto CDC+
Thank you for your interest in CDC+! Click below for helpful information and resources for getting started on CDC+. If you have any questions, please contact our CDC+ Helpline at 1-866-761-7043.
---
What is the Consumer Directed Care Plus program?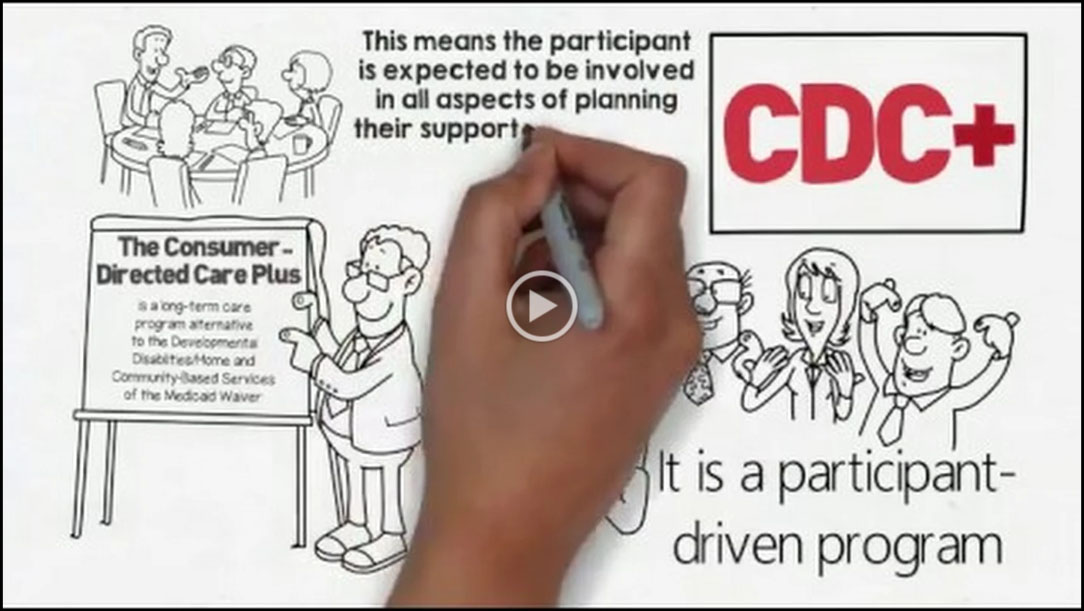 ---
Announcements
Effective March 1, CDC+ is processing applications with an improved, more efficient system. As always, we do our best to achieve the quickest enrollment time possible while proudly serving our Consumers, Consultants, and Representatives.



CDC+ is pleased to announce the enrollment of a WSC to provide CDC+ services has been streamlined effective immediately. The process has changed including the required documentation needed to register as a consultant. 
CDC+ Consultants will no longer be required to obtain a CDC+ contract associated with their solo or agency Medicaid Provider ID. As long as the provider has an active Developmental Disabilities Contract with AHCA and are in good standing with APD, they are eligible to apply to become a CDC+ Consultant. 
This will: 

Decrease the time that it takes for a WSC to be enrolled as a CDC+ Consultant.
Increase the number of available CDC+ Consultants in each region.
Allow for more choice of Consultants to the Consumer.

The revised process as well as the forms can be found in the Consultants Resources tab.



---
Background Screening Information for CDC+ only
APD has joined a statewide screening database, "The Clearinghouse." The purpose of the Clearinghouse is to provide a single data source for background screening results for persons screened for employment or licensure that provide services to children, the elderly, and people with disabilities.
The Clearinghouse provides numerous benefits to you, including:
long-term reduced costs,
email notification of disqualifying offense arrests after initial screening, 
alerts when a rescreening is due,
and more up-to-date information
The Clearinghouse allows the results of criminal history checks to be shared among specified state agencies, reducing duplicative screenings for individuals requiring screening across multiple state agencies.
CDC+ consumers are the employer of record, consumer/representatives are required to register in the Clearinghouse to initiate a background screening on their prospective providers and/or rescreening for current providers, and obtain the screening results from the online database.
All consumers hiring new providers will be able to use the Clearinghouse.
Your current providers will go through this new process at the time of their 5-year rescreening or if they experience a lapse of employment of over 90 days and are required to be screened.
---
We now have new background screening training mini sessions available online. You can access them at CDC+ Background Screening Training or click each link below to view.
You can access the Clearinghouse Registration website here: AHCA Portal Login.
If you have any questions or need technical assistance, please contact:
CDC+ Customer Service
1-866-761-7043
---
Claim Submissions
This is where you are to enter your CDC+ timesheets, invoices, and reimbursement requests
---