FOR IMMEDIATE RELEASE
October 18, 2021

CONTACT:
Melanie Mowry Etters
Communication Director
850-414-7551
Scholarship Presented to New Entrepreneur
TALLAHASSEE, Fla. – Katie Firmani was presented with a check today for $9,640 to start up a new business in partnership with the Lighthouse for the Visually Impaired and Blind in Pasco County. Firmani was selected as the winner of the Denise Arnold Self-Advocate Memorial Scholarship. This scholarship is for a self-advocate who wants to begin their own business.
Beyond the Seeds is Firmani's new employment endeavor. Firmani has a developmental disability and visual impairment. With support from the Lighthouse, Firmani will create the business, plant the seeds, care for the plants, create a marketplace at the Lighthouse and in the community, and bring the ripe fruits and vegetables to market.
The Agency for Persons with Disabilities (APD), Florida Association of Rehabilitation Facilities, and the Florida Developmental Disabilities Council awarded the scholarship. The funds were donated to honor Denise Arnold after her sudden passing in July 2018.
"I am thrilled to award this scholarship to an up-and-coming entrepreneur," said APD Director Barbara Palmer. "Denise wanted to give everyone the opportunity to be successful. We are so excited for Katie to use these funds to accomplish her dreams."
"Denise was an integral part of the Council for many years advocating for opportunities for persons with developmental disabilities, especially in the area of employment. We are so pleased that Denise's passion for self-advocates lives on through the scholarship granted to Ms. Firmani," said Florida Developmental Disabilities Council Executive Director Valerie Breen.
Florida Association of Rehabilitation Facilities Member Services Director Courtney Swilley said, "Denise was a tireless advocate for individuals with disabilities and Florida ARF is honored to be a part of this partnership to remember Denise and her contributions to the individuals served by the Agency for Persons with Disabilities."
The Denise Arnold Self-Advocacy Memorial Scholarship was developed to memorialize the contributions Arnold made in the lives of individuals with developmental disabilities over a 31-year career with the state of Florida. She directly assisted tens of thousands of individuals with disabilities, always mindful of including self-advocates in everything the agency did. Her passion was contagious and unwavering for people with developmental disabilities.
Denise Arnold spent her career making sure self-advocates and their families felt empowered and engaged. This scholarship will cultivate an innovative employment solution for a Floridian with a developmental disability.
Denise Arnold's daughter, Christine Arnold Azcona, presented Firmani with the check at the Lighthouse for the Visually Impaired in New Port Richey.
October is Disability Employment Awareness Month. Throughout October, APD and its partner agencies are promoting the valuable skills individuals with disabilities contribute to the workforce.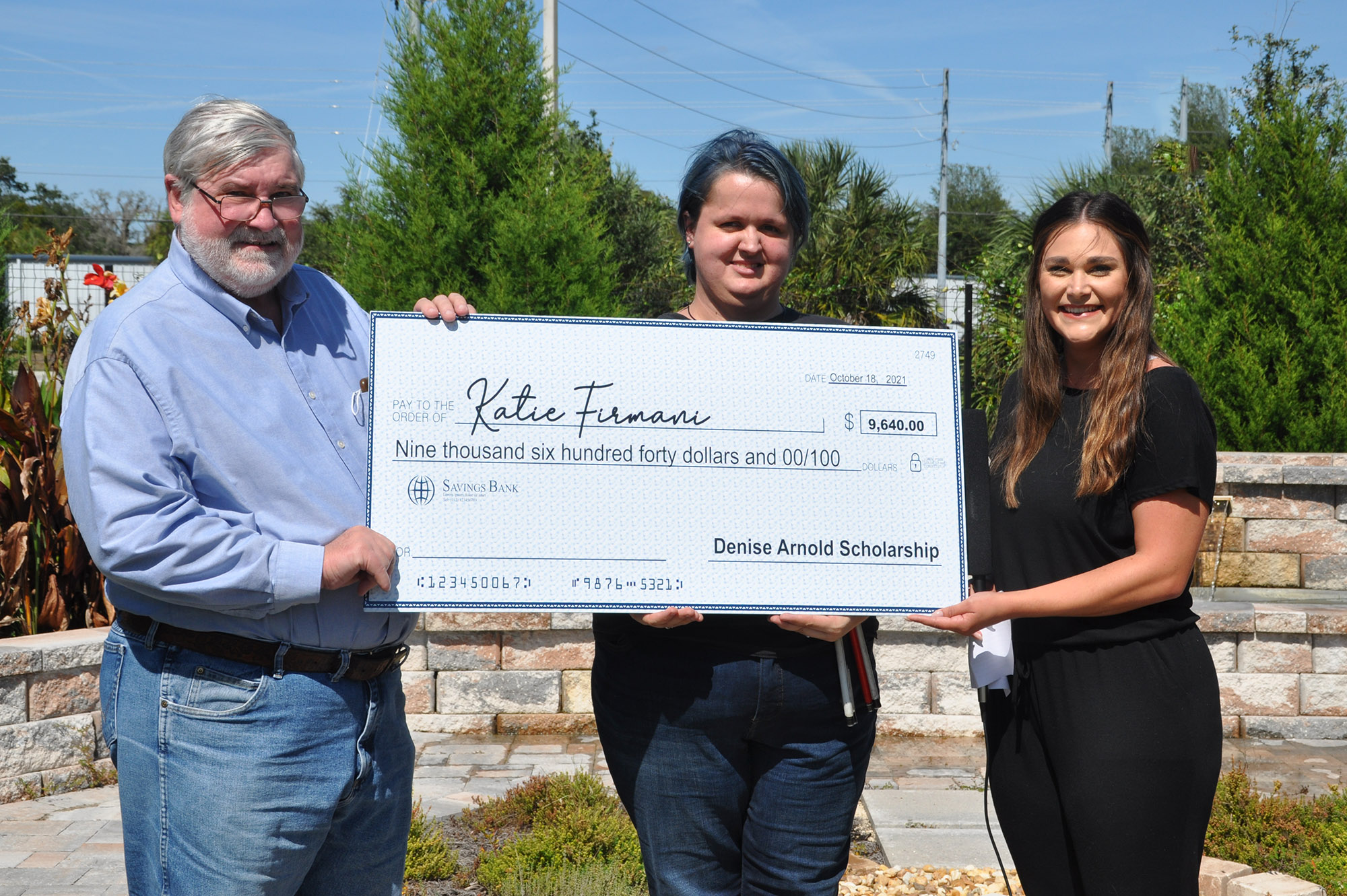 From left to right: Paul Firmani, Katie Firmani,Christine Arnold Azcona
###