Programs and Services
---
Sunland at Marianna
Sunland Center's primary focus is to provide training and support to residents in every aspect of their lives in preparation for good citizenship in their chosen living environments.
Intermediate Care Facilities
The Supporting Others and Acting Responsibly Program (S.O.A.R.)

The S.O.A.R. program was developed for residents being served at Sunland Center who have achieved success in the Agency's secure forensic programs and are ready to move into a non-secure setting. The S.O.A.R. program has the ability to serve over 100 residents and is part of the Intermediate Care Facility managed by Unit 2 Administration. The program entails seven (7) homes and provides services to both male and female residents. The program provides a wide variety of learning activities in both structured and informal teaching situations.
Residents in the S.O.A.R. program benefit from and enjoy all the supports and activities provided by the Center. Each resident in the program actively participates in programming through-out the day to gain enrichment in their lives and to assist in development of job skills that will benefit them once they are able to transition into a community setting. The programing is individualized for each resident and entails educational learning, on the job training and focused behavioral services. The program also includes community integration thru outings to local restaurants, shopping and entertainment venues.
The S.O.A.R. program's primary mission is to provide the highest quality services to residents in order to enhance the lives thru opportunities for personal development and the eventual possibility of transitioning to a community setting.
Thiel Center
The Ellen A. Thiel Autism Center was dedicated on July 26, 2007 to provide services to adult residents diagnosed with Autism. The namesake of the Autism Center, Ellen A. Thiel, was known as a pioneer in the development of educational curricula for people with intellectual disabilities during the 60s and 70s. The Thiel Center strives to provide an environment that is safe, enriching, stimulating and comforting to adults with Autism.
The residents of Thiel are provided access to both work and recreational activities on center that assist in stimulating personal development. Also leisure activities such as beach trips, shopping and other social outings are part of the Thiel experience. The goal for the Thiel Center is to become a model for Autism related treatment and provide the highest quality of services for its residents.
Forensic/Secure - Developmental Disabilities Defendant Program (DDDP)
Vocational—The Vocational Department provides training opportunities with paid employment for residents at DDDP. The Vocational Department offers quality hands-on experiences in a variety of work options within a secure setting. Training options include; custodial services, pressure washing and floor waxing services. The residents are trained on application completion, job interviewing, work schedules, time sheets and the importance of completing job duties in a timely manner.
Rehabilitation Therapy and Recreation—The Rehabilitation's Recreation Department provides training as well as recreational and leisure services with the various types of training listed here. Educational Skills-residents are able to learn basic educational skills such as math, reading and spelling. Social Skills-residents learn appropriate skills in a social setting to include conflict resolution and becoming a positive role model. Arts & Crafts-residents are offered creative activities to engage in during class. Fitness- residents learn the basis of fitness and nutrition. Bible Study- residents are offered Bible study on a weekly basis within the facility and residents with freedom of movement are afforded the opportunity to attend Sunday church services at the FSH Chapel. Anger Management- residents are taught how to resolve conflict in an appropriate manner. Substance Abuse-residents are taught the effects of substance abuse and how to seek assistance. Team and Individual Sports Activities- residents are offered sports activities such as: basketball, volleyball and flag football. Residents with the appropriate level of freedom of movement are afforded the opportunity to practice social skills in the community during on campus escorted movement outings as well as off campus escorted movement outings. A variety of leisure activities are offered for residents to include; movies, cookouts, card/pool tournaments and leisure time. Training classes and leisure activities are considered to be vital to the treatment process.
Trial Competency To Proceed—A two-year program that provides educational and training activities targeted toward restoring an individual's competency to proceed to trial. These activities are designed to strengthen a resident's factual knowledge of Court proceedings while also providing examples and opportunities to role play Court room scenarios and practice rational decision making with the goal of enabling them to return to their local jurisdiction and complete the legal process. Another group offered is the ABC's of Crime class, which is Antecedents, Behaviors and Consequences of Crime. This curriculum was developed to offer an alternative to the trial competency curriculum. By adding this training along with the trial competency training, the individuals we serve are also afforded the opportunity to learn how to avoid future law violations.
Pathways: Vocational- The Vocational Department provides paid employment opportunities for Residents at Pathways. The Vocational Department offers quality hands-on experiences in a wide variety of work options within a secure setting. Training options include: plant nurseries, lawn care, car detailing, custodial services, poultry production and vegetable gardening.
Rehabilitation Therapy and Recreation—The Rehabilitation and Therapy Department provides training as well as recreational and leisure services. Training areas include; community awareness, health and safety, money management and anger management. A full array of leisure activities offered include: arts and crafts, music therapy programs, cookouts, movies and organized sports (team and individual). The training components as well as the recreation and leisure services are considered to be vital to the treatment process.
Horticulture Program—This program provides engagement opportunities for residents in gardening and plant based activities. This includes all phases of gardening from propagation to selling grown products.
The Sunland Farm
The farm offers a wide range of training and therapeutic options to enhance the quality of life for residents. The first enhancement offered at the farm is our comprehensive vocational training program. Participants in this area receive training in planting and cultivating agriculture, harvesting techniques and farm animal care. The crops and farm animals are sold periodically which provides an opportunity for residents to have professional interaction with staff and the general public by providing the desired items and collecting payment from customers.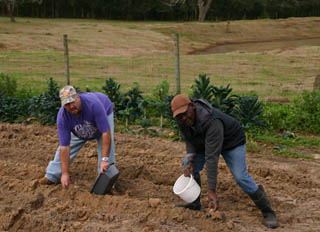 A second option offered at the farm is the therapeutic equine program. This program offers those individuals with significant challenges the opportunity to learn tolerance of a variety of stimuli through petting, grooming, walking and riding horses in a controlled safe environment.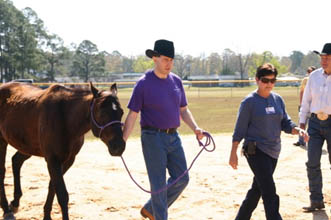 Other activities offered at the ranch include wagon rides, attending local rodeos and farming expos. The residents also participate in several trail rides each year. The services offered at the farm are enjoyed by residents and staff center wide.