Visitation Information
---
Upon arrival to Sunland, the visiting vehicle must stop to provide security with the following information:
Name
Destination
Purpose of visit
Make and model of vehicle
Security will provide you with a temporary visitor pass which must be displayed on the vehicle's dashboard to be visible through the windshield at all times during visitation. Additionally, Security will also provide you with a temporary visitor ID badge to be worn at all times on the top left hand side of the shirt during your visit. Upon departing Sunland Center, all visitors must stop at the gate to return visitor pass and the ID badge.
Hospitality House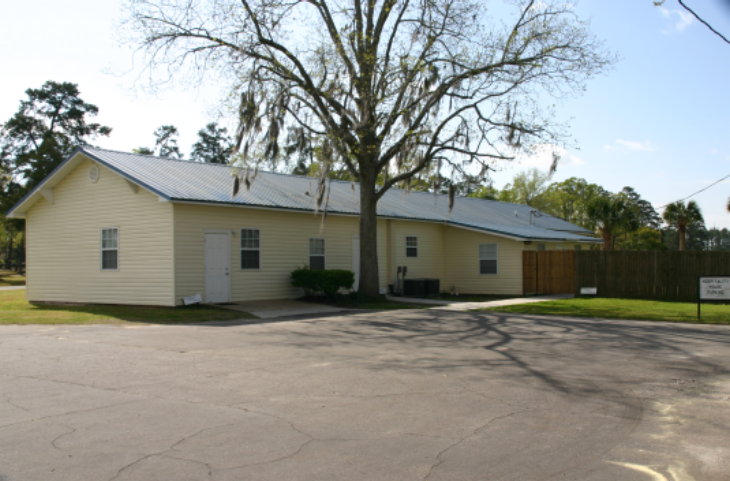 The Hospitality House is an apartment complex located at 3665 Williams Drive. The Hospitality House consists of three apartments: A 3 bedroom, 1 bedroom, and an efficiency (one big room with 2 beds). All three apartments include a kitchen (which includes a refrigerator, microwave, toaster and coffee pot). The 3 and 1 bedroom apartments consist of a living room (with pull-out sofa bed), a dining room area, and one full bath. The apartments are completely furnished including linens, towels and kitchenware. These apartments are available year-round..
Families who bring children 16 years old or younger must ensure that the children are always under direct supervision of an adult family member.
Reservations: For reservations, contact Centralized Support Services Office located in the Habile Building, Monday – Friday (excluding holidays) between the hours of 8:00 a.m. and 4:30 p.m. (CST). To make reservations, please call (850) 482-9387. Keys to the apartment may be picked up at the Gym during normal business hours. If arriving after 4:30 p.m. (CST) or on weekends, keys will be left at the main gate. Keys should be returned the day of departure to Centralized Support Services staff or to staff at the main gate.
The apartment may be reserved for up to three (3) consecutive nights. Under certain circumstances, such as the illness of a resident, the Superintendent may approve extended stays. Requests for extended stays must be made in advance of arrival with Centralized Support Services.
Fees: Guest fees are as follows, $85.00 per night for the 3 bedroom, $50 per night for the 1 bedroom, and $40 per night for the efficiency apartment. Payments should be left in the drop box located in the apartment or to Centralized Support Services staff. A receipt will be issued for all payments received.
Accidents: Accidents or injuries requiring medical attention should be reported by calling Security at 850-482-9279. Sunland will not be responsible for accidents other than those suffered by residents and on-duty staff of Sunland.
It is the policy of Sunland Center at Marianna that:
No pets are allowed in the Hospitality House.
Intoxicants, firearms, contraband, etc. are not permitted on the grounds of Sunland Center.
The use or possession of tobacco and alcohol products is prohibited inside the Hospitality House.
Occupants shall park in areas designated for the Hospitality House.
Failure to abide by the policies and/or procedures may result in your stay being terminated and you will be ordered to leave the Sunland Center Campus and may be denied future reservations for those occupants.